The billionaire Tim Draper is part of a lineage often lauded as Silicon Valley's premier VC family.
His grandfather founded the VC firm Draper, Gaither, and Anderson.
Tim's children, three of whom carry on the VC torch, could be deemed tech's ultimate nepo babies.
Celebrities bristling about being called "nepo babies" could learn from William Henry Draper III, one of Silicon Valley's premier venture capitalists who has recognized his family's close ties and their influence on the family's successes.
"Networks are critical to the successful venture capitalist," Draper, who cofounded elite investment projects like Sutter Hill Ventures, wrote in his 2012 semi-autobiographical book, "The Startup Game."
In other words, the adage: It's all about who you know. Anyone who has hustled and pounded the pavement to break into a competitive field understands there's an elusive alchemy to how connections can form and the doors they open.
As far as powerful professional networks go, it's hard to top the Draper family tree. 
Draper's venture-capital career began in the 1950s at his father's own trailblazing firm, Draper, Gaither, and Anderson, an early entrant in a new field. He wrote that he joined it, in part, for the "unique opportunity to learn from a master." Striking out with his peers in the next decade, he went on to invest in early IT-infrastructure companies including Kasper Instruments.
He paid it forward to his son, Tim Draper, who made his own early VC investments in the '80s using a family vehicle that was then called Draper Associates, according to "The Startup Game."
During the dot-com era, the father and son would hold court at the Stanford-adjacent social haunts where the elder Draper connected Tim — a Stanford alumnus — with people like Yahoo's cofounder Jerry Yang. (Draper wrote that he even attended the Yahoo pitch meeting "on the chance that I could be of help to Tim," though the deal eventually went to Sequoia.)
With his own ventures, Tim went on to back the likes of Hotmail, Skype, Coinbase, and, less fortuitously, Theranos, the blood-testing startup founded by his family friend Elizabeth Holmes.
"Meet the Drapers," the game show that Tim cocreated and launched in 2017, positions the family as enduring industry power players. On the show, Draper, Tim, and Draper's daughter Polly Draper, along with other family members who drop by as "guest judges," field pitches from founders competing for Tim's $1 million investment check. The show ran internationally on channels including Sony Entertainment Television.
As evidenced on the series, the family's scions tend to wear their legacy as a badge of honor. Tim's children Jesse Draper, who leads Halogen VC, and Adam Draper, who is behind Boost VC, are even identified as "4th generation venture capitalists" in their public bios.
And the Draper empire extends beyond tech investing. Tim and his children were also in the actor-producer Polly's Nickelodeon show, "The Naked Brothers Band." Polly's son Alex Wolff is a Hollywood rising star you might know from hits like the 2018 horror film "Hereditary."
All of this is to say that the Drapers have benefited from their last name and fall into the category of "nepo babies," a term made popular by a New York Magazine story about nepotism in the insular world of Hollywood. 
Family can play just as big a role in the tech world. Even in a book promoting grind, tenacity, and savvy risk-taking as elements of successful investing, Draper acknowledged it: "I was lucky to have been born to a great father."
Meet the Draper family, the ultimate tech nepo babies and Silicon Valley royalty.
Tim Draper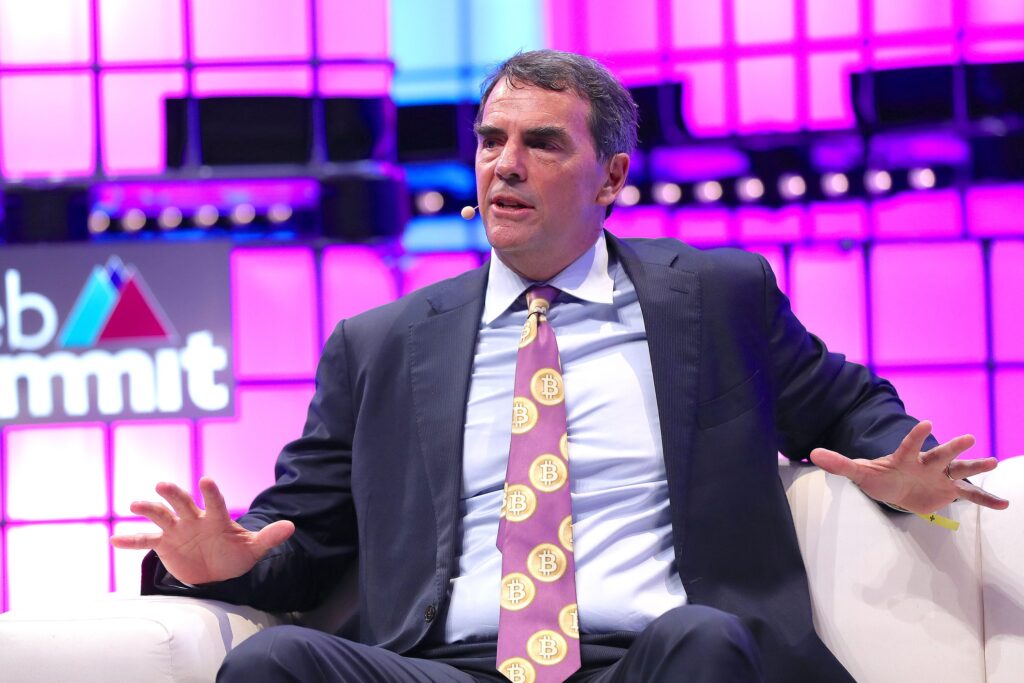 Tim, who followed in his father's footsteps as a young adult after getting in some early practice with his family investing firm, cofounded the blockbuster venture firm Draper Fisher Jurvetson in 1985, when he was in his early 20s. DFJ had more than 900 investments, according to PitchBook, including in companies such as Tesla and Baidu. DFJ's founding partners have all left, and the firm became known as Threshold Ventures in 2019, Axios reported at the time.
A gregarious presence on his show, "Meet the Drapers," Tim has an easy laugh and sports his signature tie polka-dotted with the bitcoin symbol.
With a $1.2 billion net worth, according to Forbes' estimate, his reach is far — he bought an island in Tanzania, where he's invested in a hotel — and sometimes personal. In addition to creating and hosting a show featuring members of his family, he's credited as an advisor for his daughter Jesse's firm, Halogen Ventures, and as a producer on his sister's Nickelodeon show, in which he played the character Principal Schmoke. 
Jesse Draper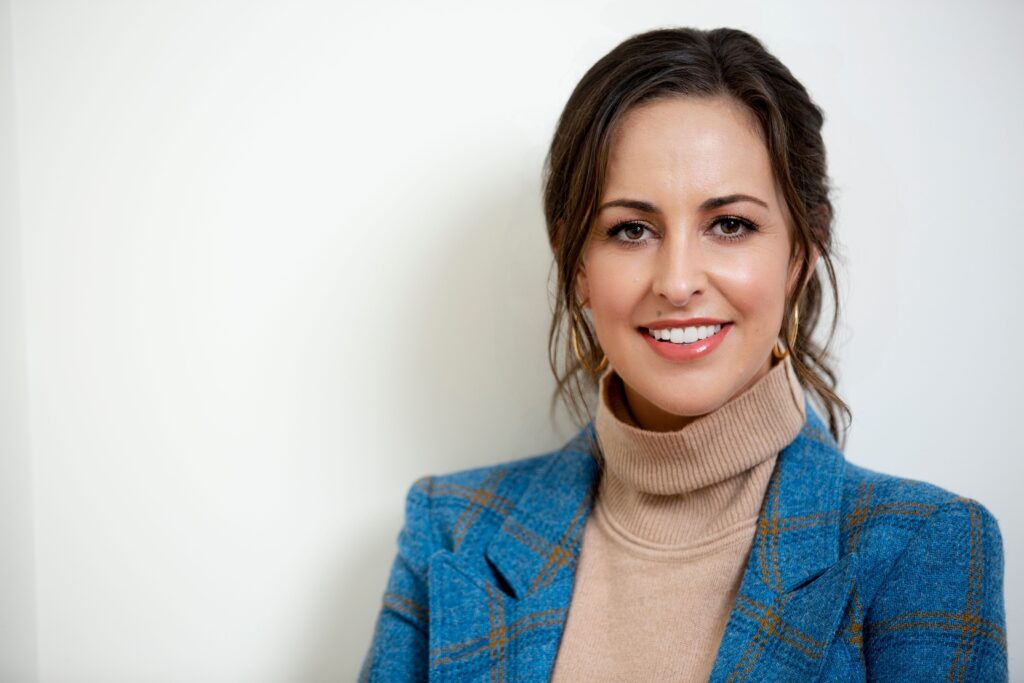 Jesse announced herself on the tech scene in the late 2000s with her web series, "The Valley Girl Show," which featured quirky interviews with entrepreneurs in Tim's circle. Some notable guests included then-Google CEO Eric Schmidt (who wrote the foreword for her grandfather's book), Elon Musk, and Stephen Jurvetson, who cofounded DFJ with Jesse's father. 
Tim helped arrange some early interviews, according to a Fast Company feature on the family in 2012.
Jesse's firm, Halogen Ventures, which she launched in 2015 in her late 20s, was the culmination of what she described as an indirect path to VC-hood.
"I'm the weirdest VC story, I think, of all time," she said in a March episode of the "Startup Renegades" podcast.
Jesse attended film school at the University of California, Los Angeles, where she also took business courses and focused first on her acting career. She was eventually put off by the objectification she observed at auditions, she said on the podcast episode, and switched gears to do "Valley Girl," which went on to become a TV show carried by a CBS-linked station. 
That put her on a path to investing, she said, because as the show's host, she was hearing more from new founders looking to get noticed. She'd alert investors in her circle to those who showed potential, she said on "Startup Renegades."
"Sometimes, I'd write them a tiny check, and some of those deals did really well for me," she added.
That helped lay the foundation for what later became Halogen, she said. Halogen has invested in dozens of brands targeted at women like the Instagram beauty darling Live Tinted and the investment company Ellevest. It lists her father as an advisor.
Adam Draper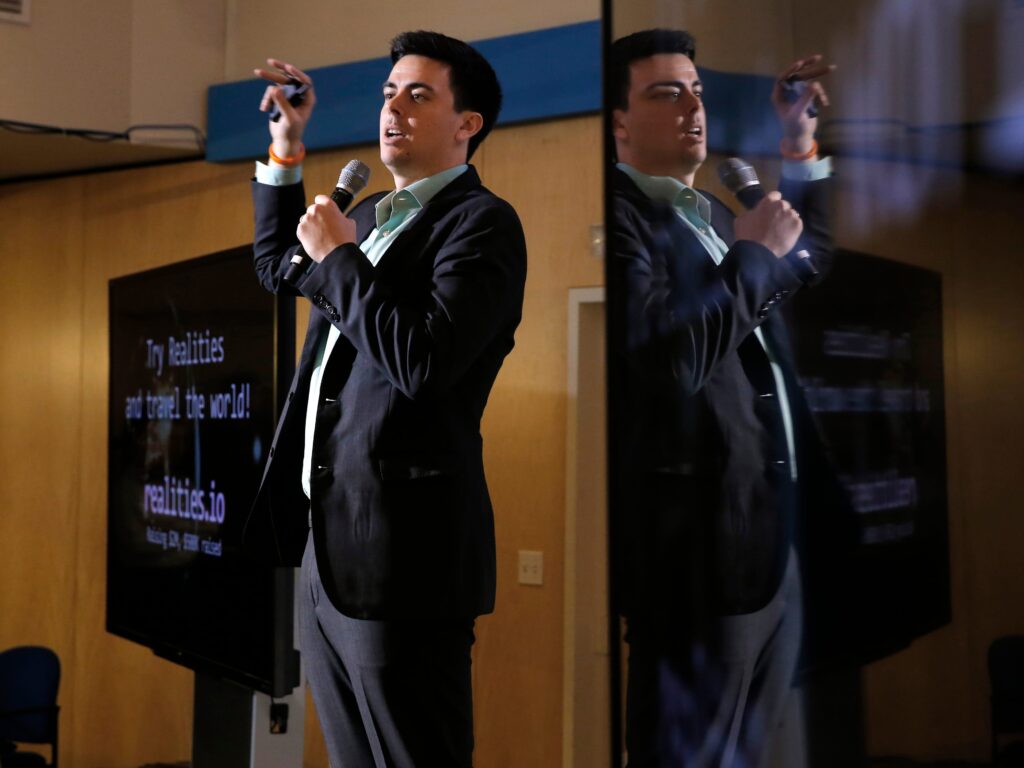 Adam's LinkedIn bio indicates that as a college undergrad, he cofounded Xpert Financial in 2009.
The Fast Company feature said Tim facilitated Adam's inclusion into the company's founding "in a single afternoon" when Tim helped Jesse's old classmate Thomas Foley fine-tune the idea. Xpert Financial, a digital marketplace to connect private companies with investors, is no longer in business, according to PitchBook.     
In 2012, Adam founded Boost VC, which has made over 400 investments in a variety of tech and crypto companies, according to PitchBook. Like his father, Adam has invested in the crypto exchange Coinbase, according to the Boost VC website.
Billy Draper
In 2016, Billy Draper was on Forbes' "30 Under 30" list as a 26-year-old in the venture-capital category. In his Forbes write-up, he was credited with being a "full-time investor since June 2014."
He worked at firms like Meta and his father's Draper Associates (a separate investing firm that evolved alongside Draper Fisher Jurvetson) after studying film at UCLA like his sister, according to his LinkedIn bio. 
He's gone on to found his own firm, Path VC, which invests in very-early-stage companies, according to the firm's bio. He's invested alongside his father in companies like Robinhood, according to Draper Associate's website. 
Eleanor Draper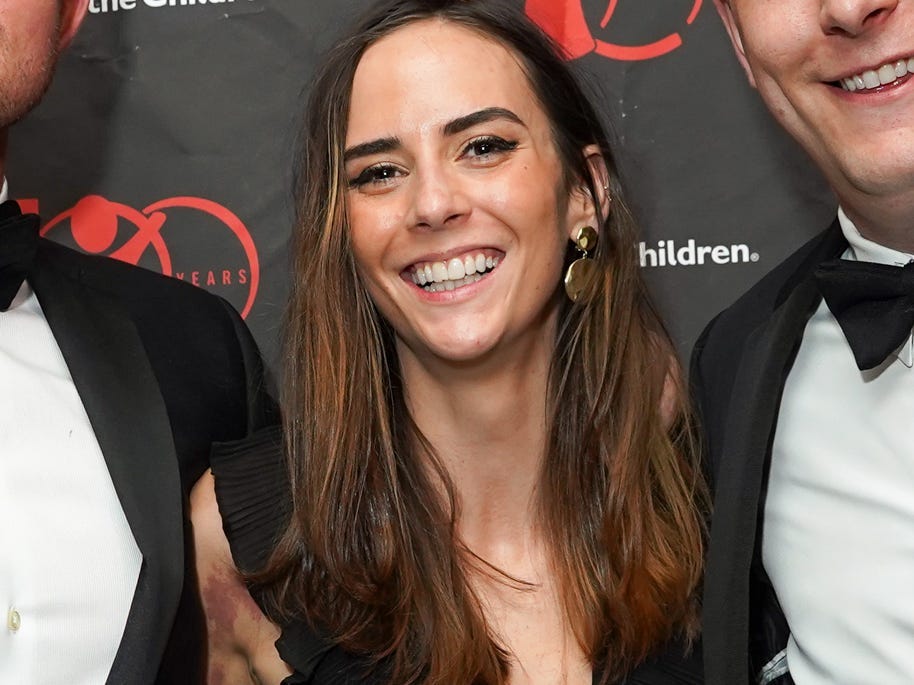 Eleanor Draper has the smallest visible online presence out of her siblings. Her LinkedIn bio indicates she received training at institutions including Draper University, an "entrepreneurship program" founded by Tim, according to its website. The more than monthlong program costs $12,000 to attend, according to its website.
She used that training in 2018 to launch a scrunchie company called Lemonelle, according to her LinkedIn.