Sri Lanka's central bank said on Tuesday it would be suspend foreign debt payments.
The nation's economy suffered from COVID restrictions which decimated its foreign exchange reserves.
The country has been hit especially hard by the rising cost of fuel, leading to shortages and protests.
Sri Lanka has said it will default on its foreign bonds, as it scrambles to save its dwindling reserves to pay for essential imports, according to media reports on Tuesday.
Last Friday the Central Bank of Sri Lanka appointed its seventeenth governor, P. Nandalal Weerasinghe, and on Tuesday he made the decision to suspend payments on foreign bonds. 
"We need to focus on essential imports and not have to worry about servicing external debt," Weerasinghe said, according to a Reuters report.
The FT said a $1 billion bond that matures in July is trading for just 46 cents on the dollar and the country's foreign exchange reserves have dropped below $2 billion, roughly half of where they were a year ago.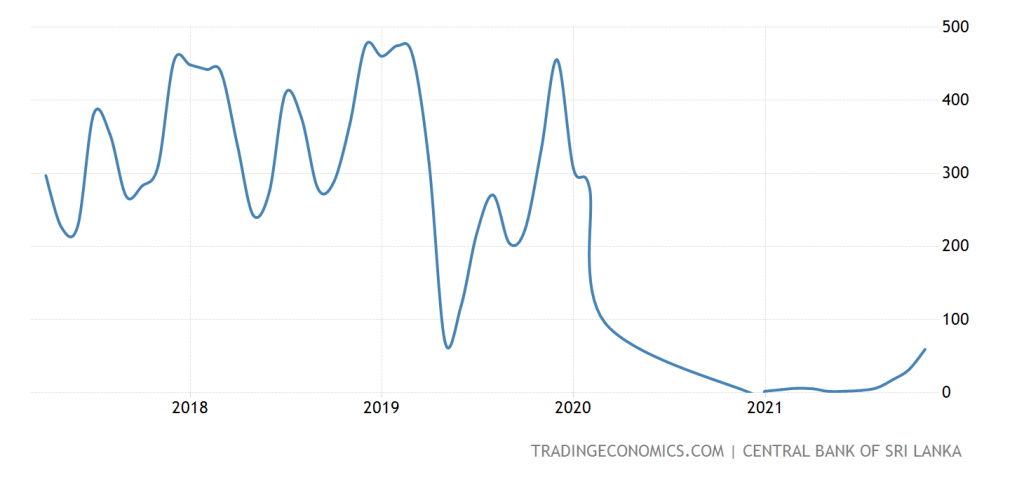 War in Ukraine has wreaked havoc on the price of key foodstuffs like rice, sunflower oil and wheat and the weakness in Sri Lanka's currency, which has fallen by 60% against the dollar this year, is adding to the cost of its import bill. 
People have taken to the streets to protest against the dwindling supply of medicine, food and fuel needed to power homes. 
"It has come to a point that making debt payments are challenging and impossible." Weerasinghe said.
He went on to clarify that the suspension will be in place until the South Asian country meets with the International Monetary Fund (IMF) on Monday to begin formal discussions for emergency loans from the global lender. 
Read more: Robo-advisors offer a quick, cheap route into passive investing. Here are 6 of the best, according to a new report
Dit artikel is oorspronkelijk verschenen op z24.nl