Dominion Voting Systems published a slew of texts, emails, and depositions in a Tuesday court filing.
These private messages contained bombshell revelations about behind-the-scenes drama at Fox News.
Read some of the most revealing texts from Dominion's latest evidence drop here.
Lawyers for Dominion Voting Systems have dropped some major bombshells about what the employees and hosts at Fox News said privately about the network's news coverage.
Dominion Voting Systems submitted in a Tuesday court filing a huge cache of internal emails, private texts, and depositions from Fox News hosts and employees. This filing is part of Dominion's $1.6 billion defamation lawsuit against Fox.
 In some of the messages, the Fox News host Tucker Carlson expressed personal loathing for former President Donald Trump and a dislike of Trump allies like the lawyer and conspiracy theorist Sidney Powell.
Other messages highlighted the internal strife at the company. In one exchange, Carlson and his fellow prime-time hosts, Laura Ingraham and Sean Hannity, discussed feeling sidelined at the network.
Read some of the texts from Dominion's mega evidence-drop below.
Tucker Carlson and an unknown confidant, on Trump
In a message on January 4 to an unnamed individual, Carlson appeared to reveal his real feelings about Trump.
"We are very, very close to being able to ignore Trump most nights," Carlson wrote. He added that he hated Trump "passionately."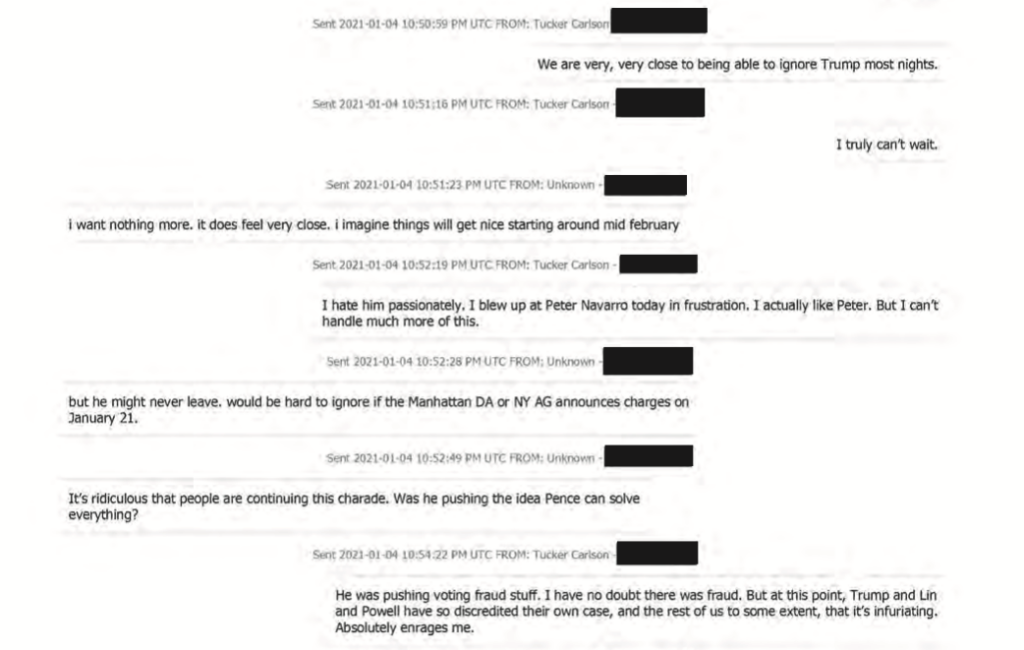 Tucker Carlson and an unknown person, on Sidney Powell
In an exchange dated November 17, 2020, Carlson said he thought Powell was lying. Powell, per Dominion's lawsuit, had gone on Fox News and pushed voter fraud conspiracy theories. These theories, Dominion says, were from an email Powell received, sent to her by a person who claimed to be a headless, time-traveling entity with knowledge of voter fraud.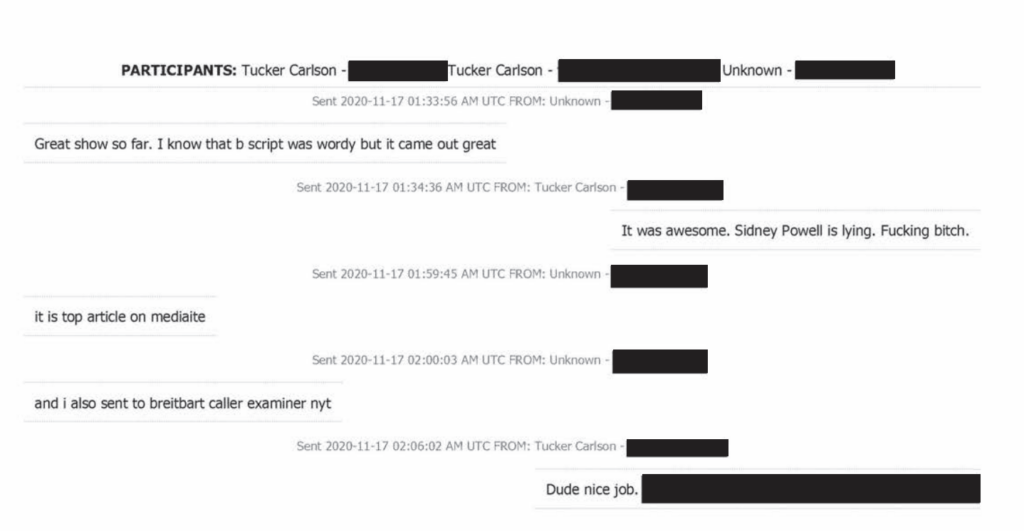 Laura Ingraham, Sean Hannity, and Tucker Carlson
A tense exchange between Carlson, Ingraham, and Hannity from November 16, 2020, suggests the primetime hosts felt sidelined by their own colleagues.
"We're working for an organization that hates us," Ingraham texted Hannity and Carlson.
The Fox News hosts in their text exchange also criticized Irena Briganti, a communications executive at the network.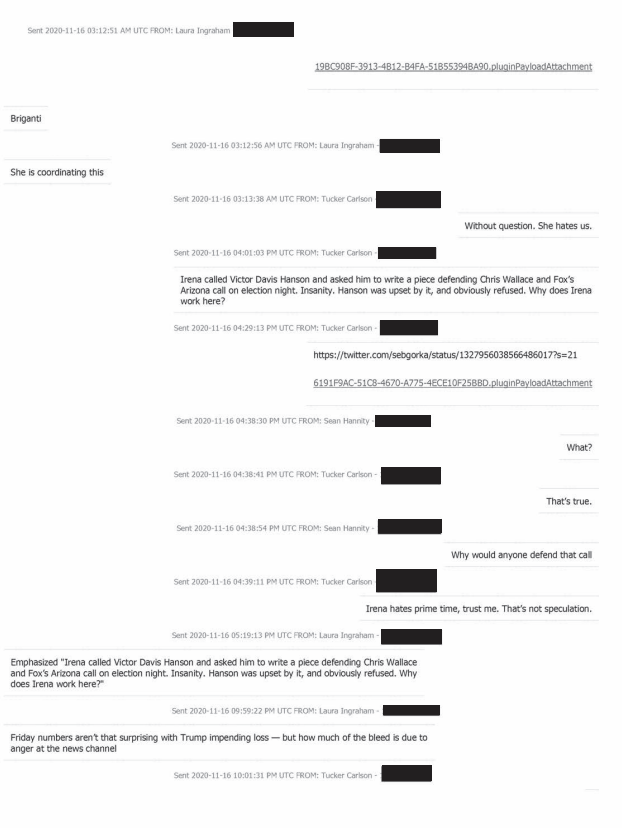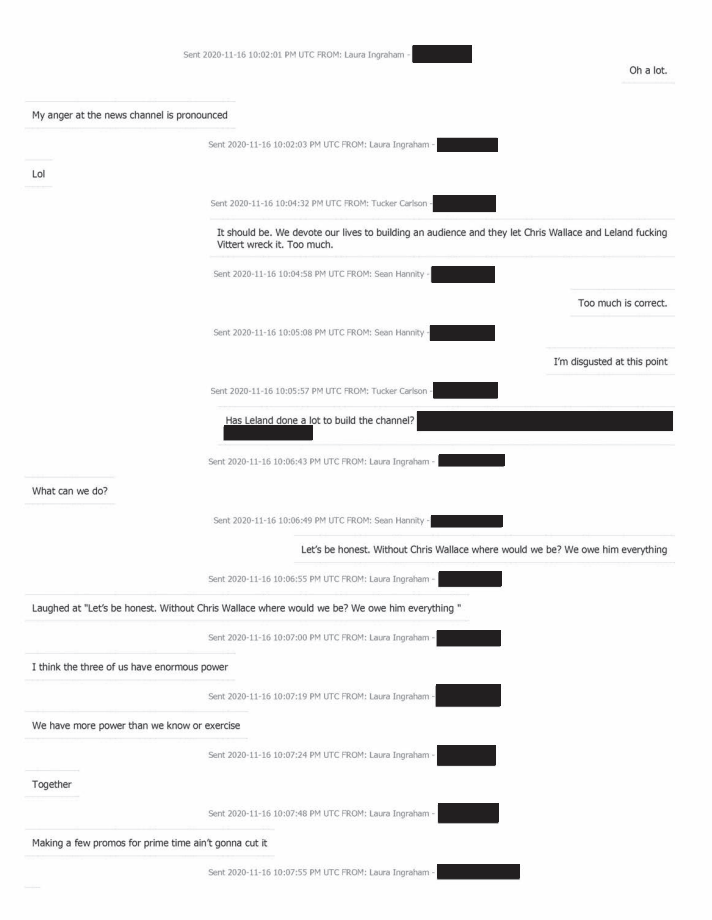 Sidney Powell and Tucker Carlson
In an exchange with Powell on November 17, 2020, Carlson was blunt with her — calling it "cruel and reckless" for her to repeat claims of voter fraud without substantiation.

Ron Mitchell and Fox EP Tommy Firth
Fox executives Ron Mitchell's and Tommy Firth's personal text messages were also cited in Dominion's filing on Tuesday.
"This is the Bill Gates/microchip angle to voter fraud," Mitchell wrote to Firth. Mitchell was likening the conspiracy theory about voting machines to an outlandish, baseless theory that Microsoft cofounder Bill Gates implanted microchips in the COVID-19 vaccines to turn people into 5G towers.