Robert Smith purchased a castle near Asheville, North Carolina, for $375,000 in 2008.
After years of renovations, Smith opened the castle to travelers booking rooms on Airbnb and Vrbo. 
Smith doesn't fear business slowing because unique stays are popular on short-term rental sites.
Robert Smith found a castle on Craigslist.
In 2008, when he was looking for a log cabin near Asheville, North Carolina, Smith was amazed to see a 15,000-square-foot property for sale.
"Everybody loves a castle," Smith, 57, told Insider. "I immediately called the realtor, and she said it was still available. We drove up there that day and went and looked at it."
Smith bought the castle with his brother, Jim, for $375,000. (They run a security-systems company, SecureOne Protection Services, in northeast Florida.) It was a steal, he said, but knew he had a lot of work ahead of him.
"It was in pretty rough shape," Smith said. "There were no light fixtures in it, all the AC condenser units were gone, there were weeds everywhere, it needed paint — it needed a complete refurbishing."
Fixing up the castle, then called Castle Inn, became his passion project.
"I've always been interested in architecture and my family was always in construction," he said. "The castle pretty much changed my life because I've been there every month since day one."
Smith poured millions of dollars into renovations that took eight years and named it after himself: Smithmore Castle. He finally decided to list its eight bedrooms on Airbnb and Vrbo in 2019 after successfully renting the property out for weddings the year prior.
The money spent has been worth it, he said, and revenue has increased each year.
Smith broke down what it took to turn a rundown castle into a luxury hotel in the hills of North Carolina.
Smith turned the castle from rundown to traveler-ready
Smithmore Castle is nestled in the Blue Ridge Mountains on 121 acres of land. Smith's original purchase was on only 3.46 acres of land, so he bought neighboring parcels to fully complete his vision.
"I had to piece back all the 100-plus acres over the years," Smith said. "It took millions of dollars over time to piece it back together and refurbish it, furnish it, and get it functional again."
Smith lives in Neptune Beach, Florida, a beachfront city 30 minutes east of Jacksonville, and lived there when he first bought the castle. But he made regular trips to North Carolina to spearhead the renovation.
"I would spend 10 to 14 days a month up there. It was practically a 50-50 home for me," he said. "In the beginning, we just slept on mattresses on the floor because we didn't furnish it until 2014."
Smith did a majority of the work himself, he said, from buying "grand" furniture to putting up light fixtures. 
"I'm pretty handy," he said. "I'm kind of a plumber, carpenter, and electrician."
He listed the eight bedrooms on Airbnb and Vrbo
During the summer of 2019, after the castle was presentable, Smith decided to list its eight bedrooms on Airbnb and Vrbo. 
"I thought, 'We're hogging this beautiful property all to ourselves,' so we needed to share it with the public," he said. "It'd be nice to start making some income in it because it's been nothing but a money pit for 10 years."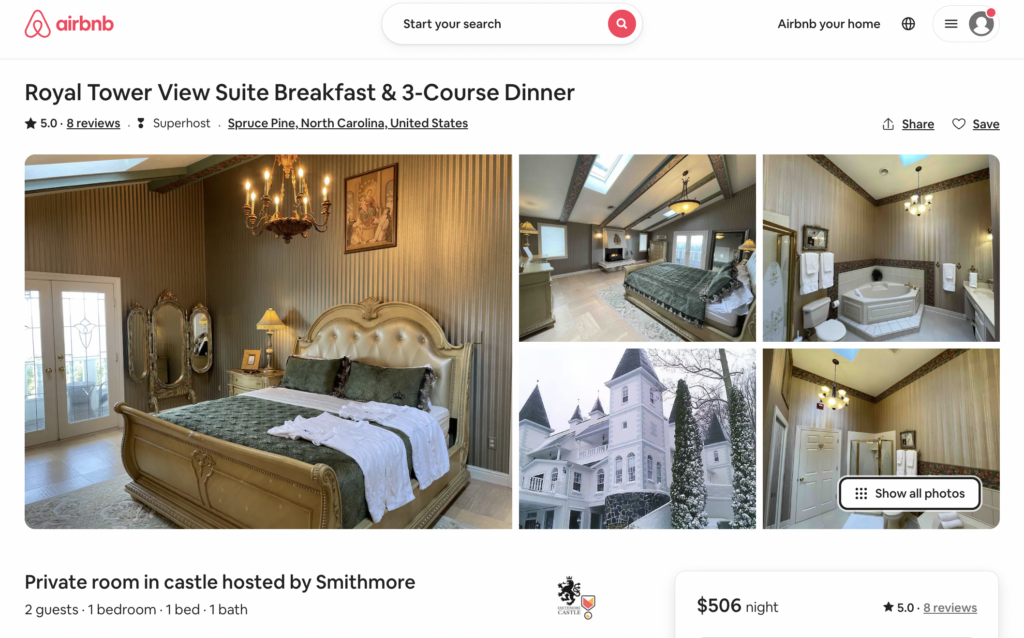 Smith added perks and amenities — like axe throwing, cooking lessons, and etiquette classes, as well as access to hiking trails and whitewater rafting — to help his castle stand out from all the other castles for rent.
"We had about a 500% increase in bookings from 2019 to 2020," Smith said. "And we had about a 40% increase from 2020 to 2021 and about the same from 2021 to 2022." 
Rooms start at $369 per person, per night, or you can book the entire castle for $2,395/night.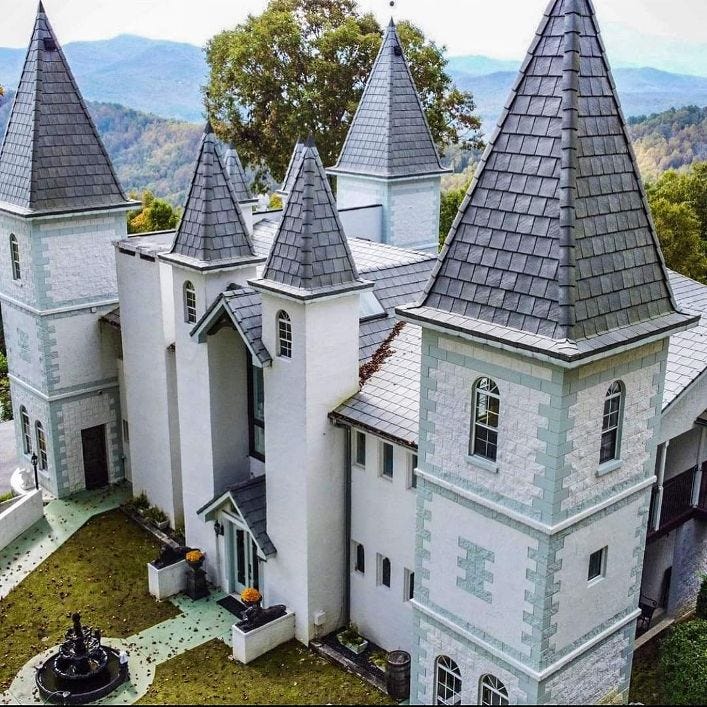 Some Airbnb hosts have reported a slowdown in bookings since spring 2022, prompting fears of an "Airbnbust." However, most experts attribute the slowdown to an increase in the number of Airbnbs competing for travelers, rather than a lack of demand from travelers themselves.
It seems that unique stays on Airbnb — from a converted school bus to a tiny house to shipping containers — are still attracting bookings despite worrying economic conditions, so Smith said he isn't worried. 
"We do cater to a higher clientele, so we may not see a drop," he said. "They'll still spend money if the economy slows down a little bit, so any slowdown has yet to be seen."