A conservative legal scholar predicts a 50% of a constitutional convention in five years. 
Rob Natelson has written prolifically on Article V of the Constitution and the convention movement.
The chances of a convention depend on how the GOP fares in state legislatures in 2022, he said.
A conservative movement to call a first-of-its-kind constitutional convention is gaining momentum. And a leading legal mind behind that movement predicts a "roughly" 50% chance of that convention happening within five years.  
Rob Natelson's work and advocacy is the legal backbone of the much of conservative movement to call a convention. Natelson, a conservative constitutional scholar, has written extensively and published numerous academic articles on Article V of the Constitution.
Article V provides two methods to amend the Constitution. Either Congress can pass an amendment — which is how all 27 amendments to the Constitution were added — or two-thirds of US states can call for a convention to amend the document, which has never been done. 
"My guess is we would probably have about an even chance of a convention over the next five years," Natelson told Insider in a phone interview. 
Natelson has previously served as an adviser to Convention of States, the conservative group currently gaining the most momentum to call for a convention led by ex-Tea Party activist Mark Meckler. Natelson is also involved in the American Legislative Exchange Council's efforts to promote the convention movement, serving on its Board of Scholars and writing an Article V convention handbook for lawmakers for the organization.
At a December 2021 closed-door workshop at ALEC's winter policy summit, Natelson told lawmakers the movement was "on the cusp of a supermajority" in audio obtained by the Center for Media and Democracy, a left-leaning watchdog, and shared with Insider. 
"It's going to depend a little bit on the results of the 2022 midterms," Natelson told Insider of the chances of a convention.
Republicans currently have unified control of 31 state legislatures, and are betting on a favorable midterm climate to flip Democratic-controlled chambers and further expand their majorities in statehouses. 
In all, 19 states, including four in 2022, have passed resolutions for a convention under Convention of States' model. It calls for a convention that would pass a federal balanced budget amendment, "limit the power and jurisdiction of the federal government," and impose term limits on federal officials. 
"The only people who really seem to be making progress are the Convention of States people ... and obviously, they're going to they're mostly conservative, they're not going to appeal to progressives," Natelson told Insider. "The makeup of state legislatures will help you determine how much progress they make."
But as Natelson noted, the convention movement doesn't break down neatly along ideological lines. 
"You can't say that because the legislature is Republican or conservative, it's going to pass this thing. And you can't say that no Democrats are going to join it either," he said. "So there are a lot of variables, but my rough guess is probably about a 50% chance in the next five years."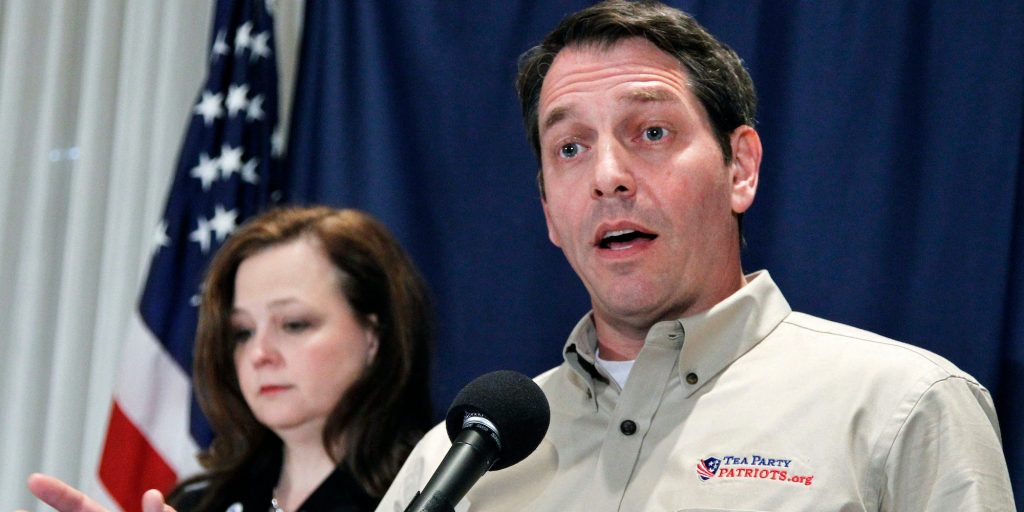 The leading conservative group pushing a convention has momentum and money. 
Convention of States, unlike previous movements pushing for a convention, is bankrolled by powerful conservative interests.
"What we're seeing now, that we haven't really seen before, is people putting money into it. The Mark Mecklers of the world are putting money into it," Viki Harrison, director of Constitutional Convention and Protecting Dissent Programs at Common Cause, told Insider. 
Meckler's groups, Convention of States Action and Citizens for Self Governance, have received millions of dollars from groups including the Koch-connected DonorsTrust, the Mercer Family Foundation, and groups connected to powerful conservative lawyer Leonard Leo, tax filings obtained by the Center for Media and Democracy show.
"It's the first time any of these applications have had this much movement in quite some time," said Harrison, who lobbies against the convention movement in statehouses across the country. 
Other observers of the convention movement, however, are far less certain that a convention is imminent. 
"It's clear to everybody who's working on this that the convention proponents have no honest path for 34 states, they've reached their limit," David Super, a professor and constitutional law expert at Georgetown University, told Insider.
Despite the uphill road ahead, observers on both sides of the convention movement sense increasing demand to change the Constitution from both conservatives frustrated by unified Democratic control of Congress and progressives incensed with decisions from the Supreme Court's conservative supermajority.
"The feeling that Washington, DC, has become a cause for the nation's problems rather than a solution to those problems is becoming universal on both sides of the aisle," Karla Jones, senior director of international relations and federalism at ALEC, told Insider.