Architect Steven Paynter made an algorithm that checks if offices can be converted into apartments.
Amid expiring leases and remote work, the office market is in crisis and housing is constrained.
Converting offices into apartments brings people back to downtown areas as residents, not commuters.
In early 2020, Steven Paynter saw an opportunity.
The principal at international architecture firm Gensler had spent a lot of time thinking about resiliency in architecture, focusing on making larger buildings out of wood rather than concrete and steel. But the pandemic, and the glut of empty office space it brought with it, presented a new opportunity to think about sustainability: by converting unused commercial buildings to apartments.
Gensler worked on office-to-residential conversions before the pandemic made it essential, like an old Philadelphia office building called One Franklin Tower that got a new glassy facade and now houses 550 apartments with rents starting from $1,825 a month.
Now the algorithm he spearheaded collapses the survey process — which must be conducted to determine whether a commercial building can be turned into apartments — from months to hours. His work will help these conversions to be enacted on a mass scale. which is important given the urgency created by America's rising office-vacancy rates due to the pandemic's reshuffling of where and how we work. It could help bring people back to downtowns across North America as renters or homeowners, not commuters.
Paynter, a 39-year-old who lives in Toronto, said demand for Gensler's services in office-to-residential conversion has soared over the last eight months, with inquiries in any given week spiking from a handful to over 20. 
"Each time we do one of those meetings, it's the C suite of this development company or that bank coming to us" saying "we have this building that's worth $100 million, and we don't know what to do," he said. They've also been approached by cities at large at crisis points.
Bringing people back into urban centers
Paynter said Gensler started studying office vacancies at the beginning of the pandemic, to try to solve problems in high-vacancy cities like crime and pollution from commuting. That's when Paynter and his team started developing the algorithm. 
Typically, Paynter said the process of determining whether an office building is a good fit for a residential conversion is long and convoluted, and usually only 3 out of 10 are a good fit. Oftentimes he and his colleagues would start marking out a plan for conversion after being approached by a client before realizing weeks or months later it wasn't feasible. 
The algorithm is able to quickly assess which office buildings are viable for conversion to apartments, which are known in industry parlance as multifamily residential. It weighs factors like where the building is located, its existing layout, and the feasibility of updating its exterior. 
"If we can find the perfect buildings for conversion, you start to be able to correct the market, you start to be able to bring people back to neighborhoods," Paynter said. "And then, actually, the demand for the remaining office buildings goes up, because you're creating scarcity by taking some out of the market."
In addition to addressing downtown vibrancy by reducing crime and pollution caused by commuting, he said the algorithm will help prevent teardowns. Many developers prefer to start fresh rather than retrofitting or bringing up to date an older building. "That would have been a huge problem and millions of kilograms of carbon would be released by doing it," he said. 
Most urban centers lack sufficient housing, but turning office buildings into apartments helps add additional units to rent or buy.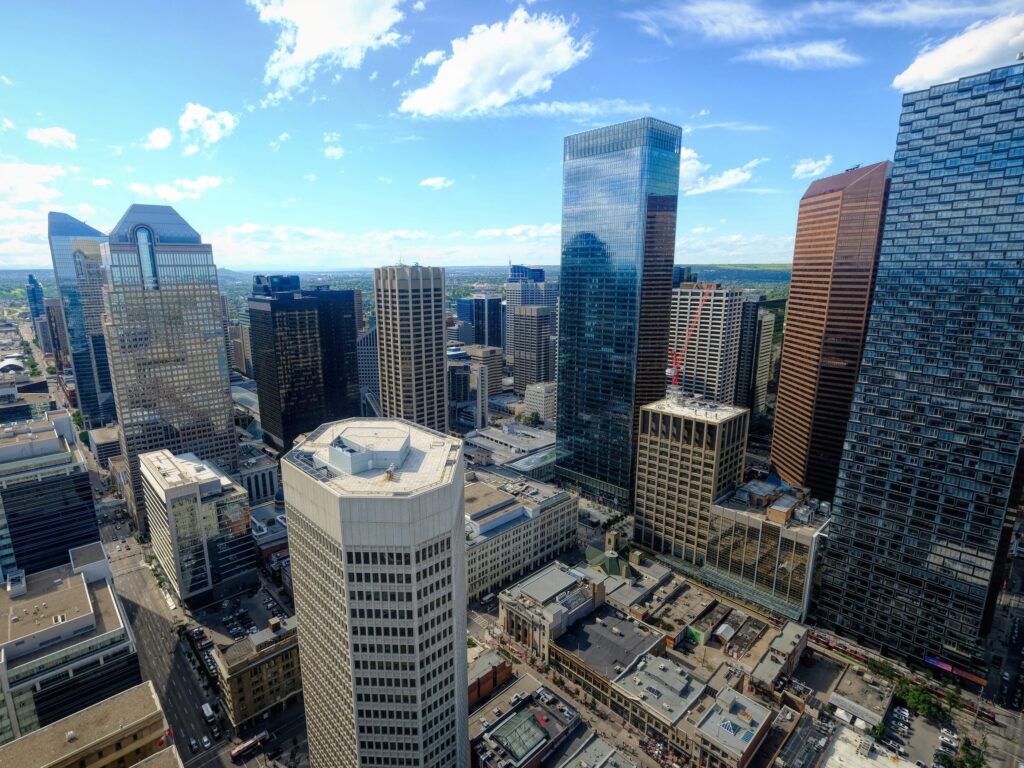 To date the firm has surveyed over 400 buildings in 25 cities, with downtown Calgary, in Alberta, Canada, the biggest use-case to date. They were commissioned by Calgary Economic Development.
About 28% of the area's office space is vacant. After running Gensler's algorithm, the city released a $10 billion blueprint for revitalization that includes incentivizing conversions to bring people back to the urban core.
Gensler found that the revitalization plan will increase the area's population by 23%. 
"It'll have a huge impact on the viability of the city and the retail there and the people who live there," Paynter said.
He added that dozens of buildings in the areas they've surveyed across North America will begin going into construction this year.  
"That will start to have a genuine citywide impact," he said. "That's really exciting."
Dit artikel is oorspronkelijk verschenen op z24.nl