Didi Taihuttu believes in bitcoin, and in a big way.
The 39-year-old has put his house up for sale — selling it in part for bitcoin — and now lives with his family on a campsite near Venlo in The Netherlands. All of his other items are for sale, too: the car, the motorbike, electric bikes, the children's toys, clothing, shoes.
With the proceeds, Taihuttu buys bitcoin and other cryptocurrencies, betting that it will make him rich.
"People will say, 'You're crazy'," Taihuttu told Business Insider. "But we are an adventurous family and are going to gamble for a moment to live minimalist lives. If you never take a risk, life is boring."
Taihuttu thinks digital coins such as bitcoin and the blockchain technology behind it are transforming the role of money and banks in society.
With blockchain, no third party is required to approve a payment — a role currently performed by banks — and a network of computers keeps a record of all transactions.
"The Internet was a revolution for information. I think that blockchain and cryptocurrency are revolutionising the monetary system," says Taihuttu. "In five years' time, everyone will say: 'We could have seen it coming.' I am responding to this change now."
Travelling the world for nine months
In the summer of 2017 Taihuttu and his wife made the radical decision to sell everything. The couple have just returned from a nine-month world trip through Asia and Australia with their three daughters. The Taihuttu's visits included Angkor Wat in Cambodia, swimming with dolphins near Brisbane and relaxing on the beach in Thailand.
Early last year, Taihuttu's father, John, died from cancer aged 61. A year before, it became clear that the former professional football player was incurably ill.
"It was a difficult period," says Taihuttu, who ran his own company offering computer courses in Venlo for 11 years. "I had had it. I sold my business and we decided as a family to go travelling."
The crypto-believers
During that journey Taihuttu kept bumping into people who were using digital coins. In Bali, he met a South African exchange trader who resigned after 17 years and went into crypto trading. And on the beach near Noosa in Queensland he spoke to someone from Dubai who was trading in bitcoin.
Taihuttu kept in touch with them all. They maintain contact through Skype, analyze the market daily and trade cryptomines based on what they're seeing in the price action.
"They are people who have a lot of experience in trading," says Taihuttu. "That is what I am still lacking a little."
Taihuttu himself has been "in the coins", as he says it, since 2010, when the currency was worth less than one euro.
"I am an entrepreneur, so when I first heard about bitcoin, I said: let's do this."
Mining bitcoin with dozens of computers
Along with a friend, Taihuttu set up a physical business to mine bitcoin after buying dozens of computers and video cards. When the value rose to several hundred euros in 2013, he decided to sell the coins. The entire stock.
"If I had known then that four years later it would have been ten times more valuable, then of course I wouldn't have sold everything," says Taihuttu now. "But then I thought: I have to make a profit."
It wasn't too much later when the value of bitcoin plunged and its value was no longer clear. Suddenly, Taihuttu's cost of electricity and property rental were too high.
Taihuttu then gave Dogecoin, a smaller emerging currency, a go.
"I've had a tremendous amount of it, but that coin was worth nothing," he says. "The portfolio that I had at the time was perhaps worth 200 euros."
In the end, he stopped minting for two years.
Dogecoin becomes a saviour
During Taihuttu's world tour, he got a message from a friend who had first told him about bitcoin.
"Check your coins! Check your coins!"
Dogecoin's value had soared to ten to twenty times its previous worth.
In the spring of 2017, bitcoin's value rose to $3,000, and other cryptocurrencies climbed along with it. At work, at home, in the supermarket: suddenly everyone was talking about crypto craze.
"That Dogecoin made me realise again: There is something going on in the world," says Taihuttu.
The fact that he continued to meet so many bitcoin traders on his family's world trip was a sign for him. "This is no coincidence, I thought. So I went back into it again."
Selling the house
Back home, Taihuttu went to the real estate agent and told them he wanted to sell his house for 85 bitcoin. The Venlo property had been on the market for eight months, yet remained unsold.
The decision attracted a lot of media attention and the property has been sold under reservation to a cryptocurrency trader.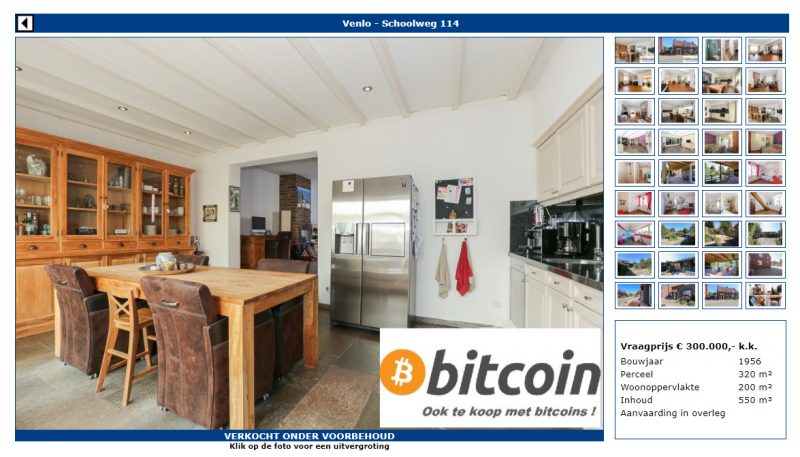 Source: vetebe.nl
"He came to the house with his wife and they both thought it was great," says Taihuttu. "The asking price of 300,000 euros is as good as achieved."
What part of it will be paid in bitcoin is yet to be negotiated with the buyer. "It is likely that the excess will be partly paid for in bitcoin, so that I have no problem repaying the mortgage," he says.
The system is not equipped
At the end of the day, banks are one of the biggest obstacles to selling a house entirely for bitcoin. Just like a conveyancer. Without the intervention of the latter, a house cannot change owner.
The buyer typically pays the purchase price into a trust account set up by the conveyancer, which then passes the deed of sale. If the transfer of the property has been registered in the Land Registry, the conveyancer will transfer the amount to the seller.
These transactions still have to be carried out in euros, because the conveyancer does not have a digital wallet to store cryptocurrencies. And there is another problem: what if the bitcoin falls in value in the few days that the purchase price is on the conveyancer's trust account?
"The entire system is not designed for it. I wanted to help start changing that,"says Taihuttu. "Unfortunately, it has not become what I had expected. We in the Netherlands have not yet reached the point where we have complete confidence in blockchain, so the notary will have to act."
Minimalist lifestyle
The new lifestyle look a while for the Taihuttu family to get used to. Their luxury four-bedroom, 200 square meter house has been swapped for a chalet on a campsite. Taihuttu's three daughters, who had each had their own room, now all bunk in together.
The family's other items are also for sale, in order to buy as much bitcoin as possible.
The family will continue this way until 2020, at which point Taihuttu hopes bitcoin and blockchain will be irreplaceable and his wealth will be worth three to four times as much.
In the meantime, the family lives with fewer things.
"That was ultimately the decisive factor for my wife to say yes to this plan," says Taihuttu. "If you raise your kids to be too materialistic, it is not good. And that was what we were doing, to be honest."
And if things go wrong? "Then we will be without money for a moment. But I don't think that that's the worst thing that can happen in life."