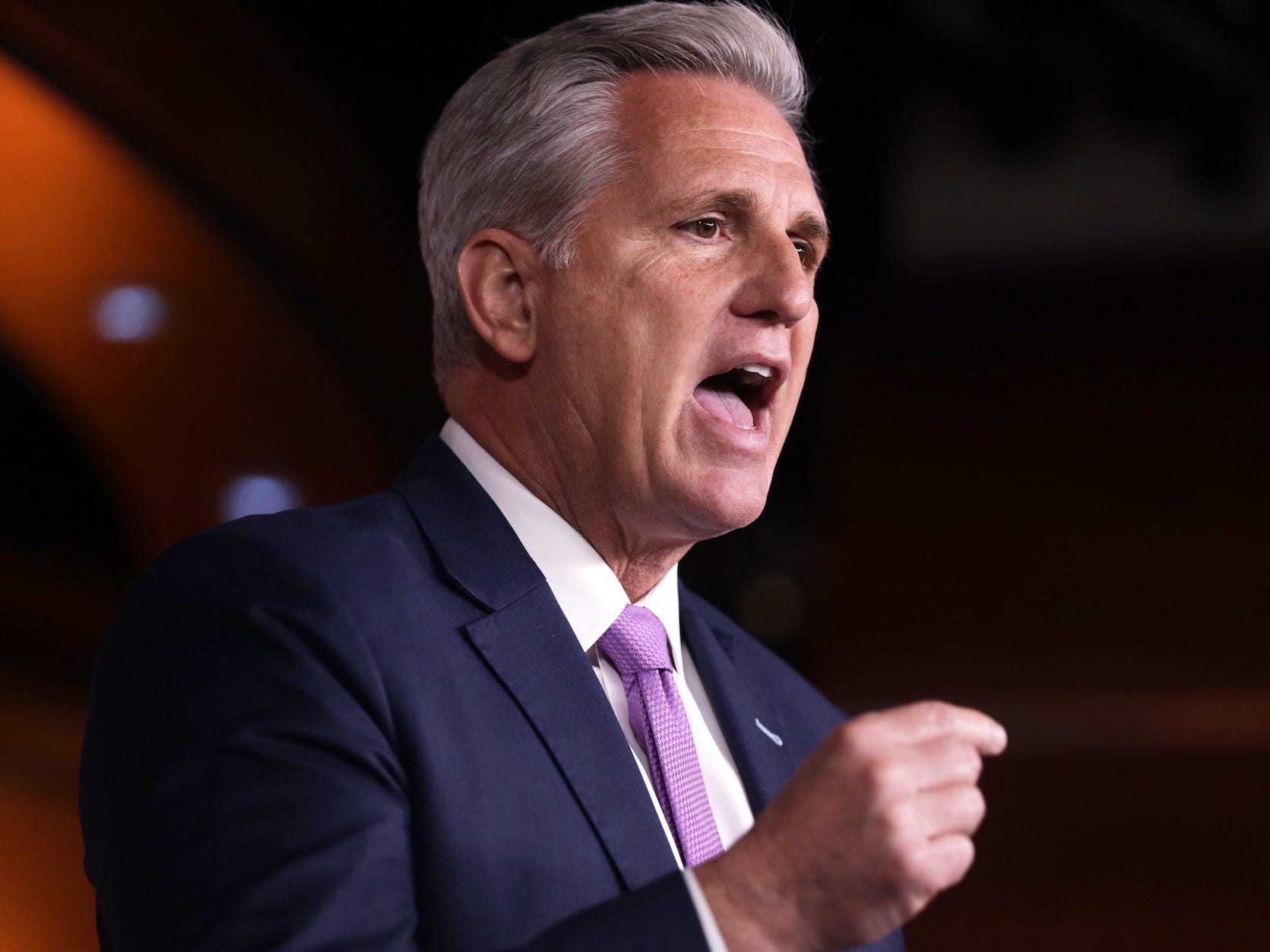 The House voted this week in favor of creating a commission to study the January 6 insurrection.
All but 35 Republicans voted against the measure, including House Minority Leader Kevin McCarthy.
It's a reversal of his January stance, in which he said a "fact-finding commission" would be "prudent."
House Minority Leader Kevin McCarthy voted this week against creating a commission to study the events of the January 6 insurrection, despite publicly expressing support for such a commission in the past.
The House passed a bill Wednesday to establish the bipartisan commission in a 252-175 vote, with 35 Republicans joining Democrats and voting in favor. Republican leadership, including McCarthy, came out in opposition to the bill.
McCarthy, a Republican from California, announced his position Tuesday, objecting to the bill because it did not include studying other unrelated instances of political violence. He also said House Speaker Nancy Pelosi "refused to negotiate in good faith on basic parameters," despite Pelosi agreeing to most of his demands, Insider's Eliza Relman reported.
Read more: Meet Donald Trump's next nemeses: The 15 prosecutors and investigators from New York who are primed to pepper the ex-president with history-making civil and criminal probes
"Given the political misdirections that have marred this process, given the now duplicative and potentially counterproductive nature of this effort, and given the Speaker's shortsighted scope that does not examine interrelated forms of political violence in America, I cannot support this legislation," McCarthy said in a statement.
McCarthy and some other Republicans have argued the commission should also study violence associated with last summer's Black Lives Matter protests, while others, including GOP Rep. Liz Cheney, thought it should focus solely on the Capitol riot.
But in January, days after a mob of President Donald Trump's supporters violently breached the Capitol and disrupted the certification of the election, McCarthy seemed to take a different stance.
As the top Republican in the House he said he would not vote to impeach Trump. Instead, he called for a "fact-finding commission" and a possible censure vote.
"Most Americans want neither inaction nor retribution," McCarthy said, though surveys at the time indicated most Americans favored impeachment, NPR reported. "They want durable, bipartisan justice."
He said Trump should take "immediate action" to "accept his share of responsibility, quell the brewing unrest and ensure that President-Elect Biden is able to successfully begin his term."
"The president's immediate action also deserves congressional action, which is why I think a fact-finding commission and a censure resolution would be prudent," McCarthy said.
McCarthy's stance on Trump's role in the riot also appears to have changed since then, when during a speech on the House floor the lawmaker explicitly said the president "bears responsibility" for the Capitol riot. But speaking on Fox News late last month, McCarthy defended Trump's actions on January 6.
McCarthy has also soured on Cheney since January, when he initially defended her after she voted in favor of impeachment. Last week, he supported Cheney's ouster from a House GOP leadership role over her ongoing criticism of Trump, instead endorsing Trump-loyalist Rep. Elise Stefanik for the spot.