The Ripped Bodice is a romance-only bookstore that first opened in LA in 2016.
A new location recently opened in Park Slope, Brooklyn.
Visiting the bookstore helped me rediscover and embrace my love of romance novels.
I've been intrigued by The Ripped Bodice for more than a month, ever since I saw that the new bookstore replaced a dusty Brooklyn pet store with a pastel pink facade.
Run by sisters Leah and Bea Koch, The Ripped Bodice first opened in LA in 2016. The new second location, in Park Slope, generated online hype from videos of Leah renovating the space into a romance-themed haven.
Billed as a bookstore devoted to the celebration of romance novels, it's also the first genre-specific bookstore I'd heard of. While romance books are consistently dominating bestseller lists, I still wondered how they could fill an entire store.
Increasingly curious, a friend and I patiently awaited the opening and went when it finally opened earlier this month.
What I thought would be a fun, quick look turned into over an hour of us browsing every section and both leaving with book orders.
It's one of the most unique bookstores I've ever been in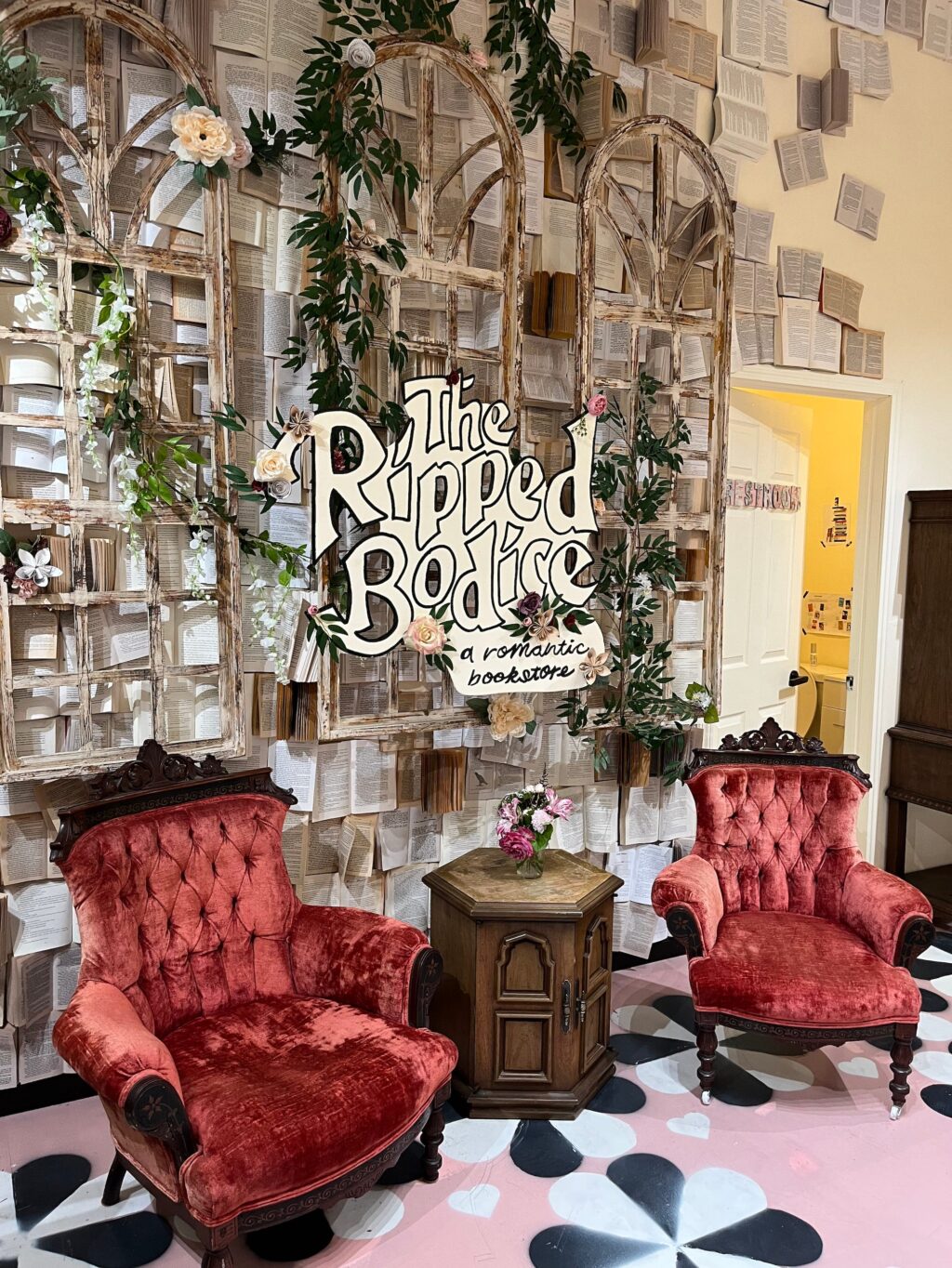 As eye-catching as the front is, the interior is even more creative, with dangling books, Victorian-style bird cages, and faux flowers brightening up every corner. It's not just a romance bookstore, but unabashedly so.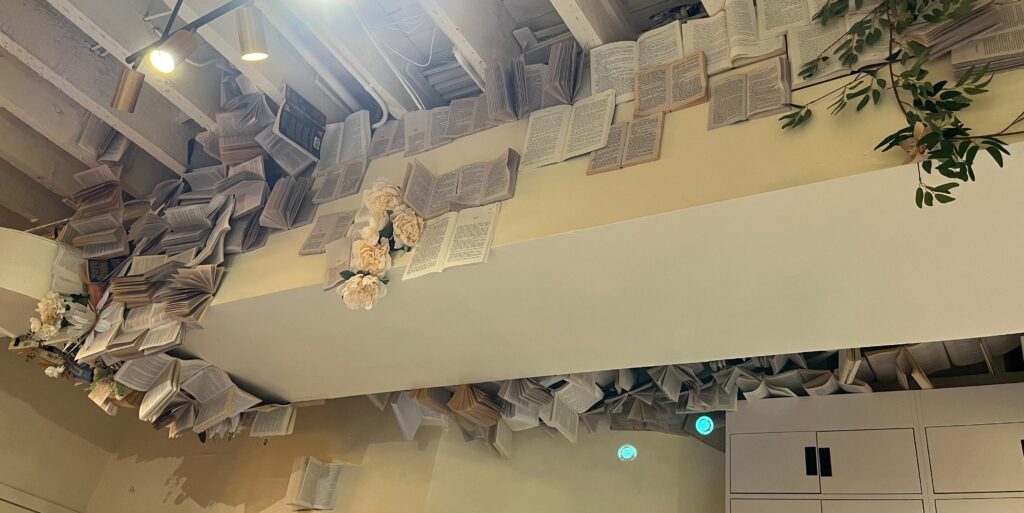 Besides books, there are plenty of accessories, like candles named after characters from the bestselling romance series "A Court of Thorns and Roses" by Sarah J. Maas; tea bags referencing romantic tropes like, "There's only one bed;" and branded t-shirts and totes.
One standout was a shelf of "blind date" novels — gift-wrapped books that feature a short, one-sentence description but are otherwise a complete surprise.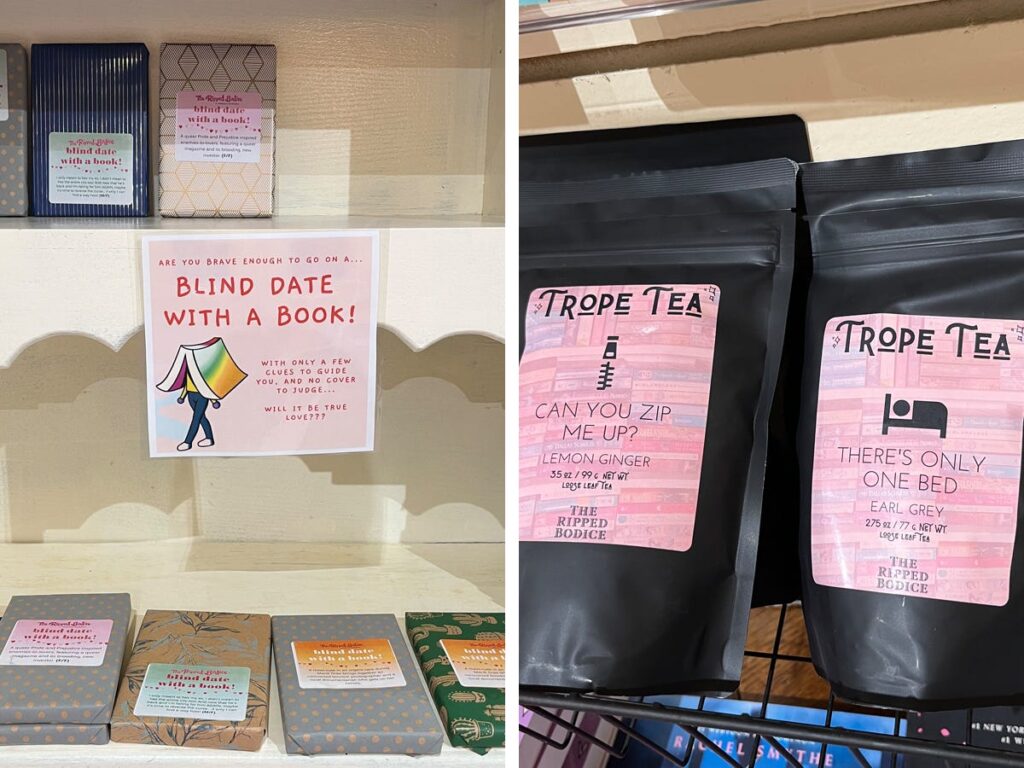 Songs like Taylor Swift's "Love Story" hum in the background and everything about the space helps amp you up for the best part: The books.
It has a wide range of romance books, from new bestsellers to sensual paperbacks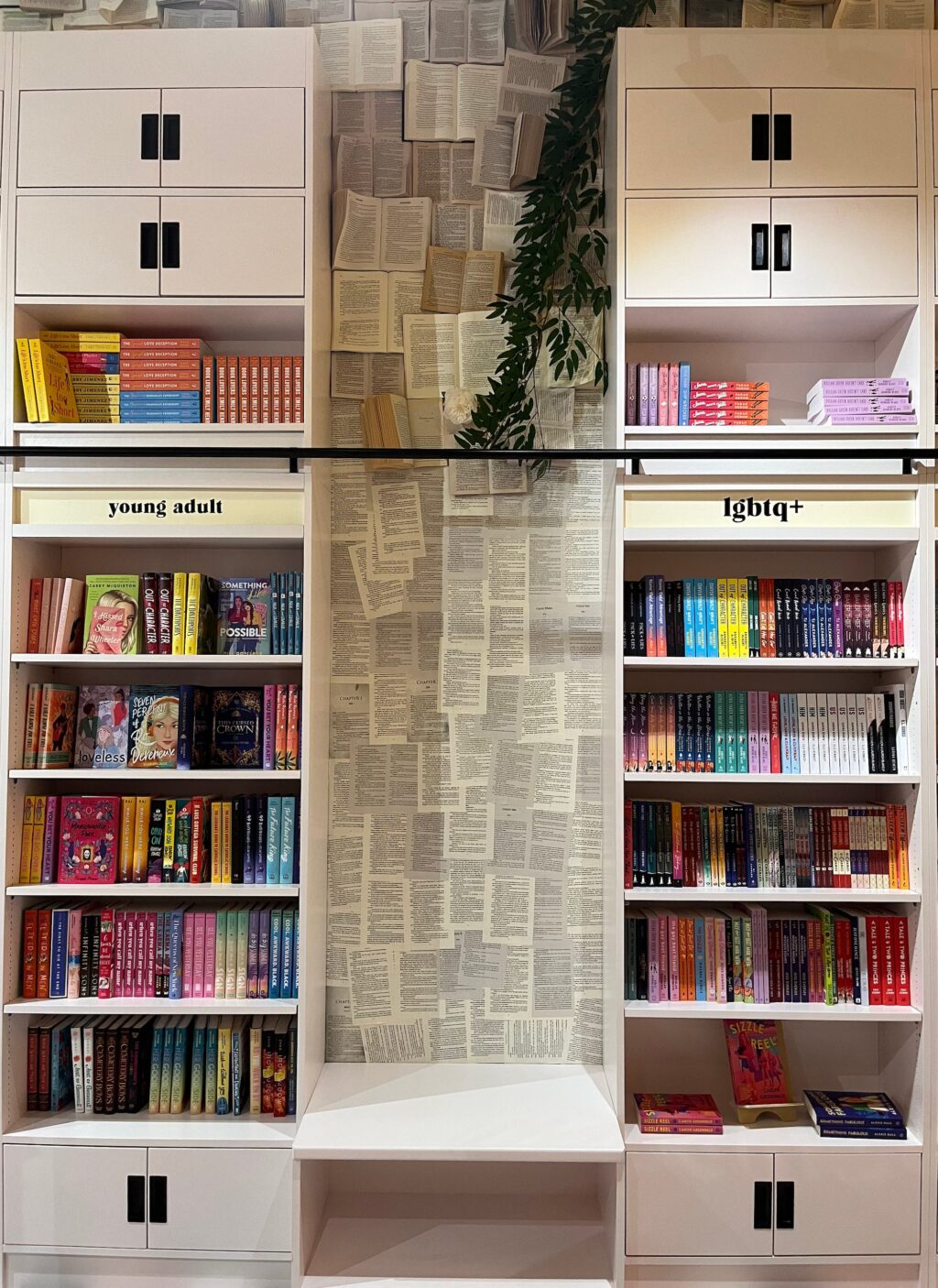 Romance may seem like a limited genre, but my trip to the bookstore showed me that the genre is much more expansive than I thought.
The store is broken down into sub-genres including contemporary romance, fantasy romance, historical fiction, YA, LGBTQ+, graphic novels, classics, and even non-fiction sexuality books.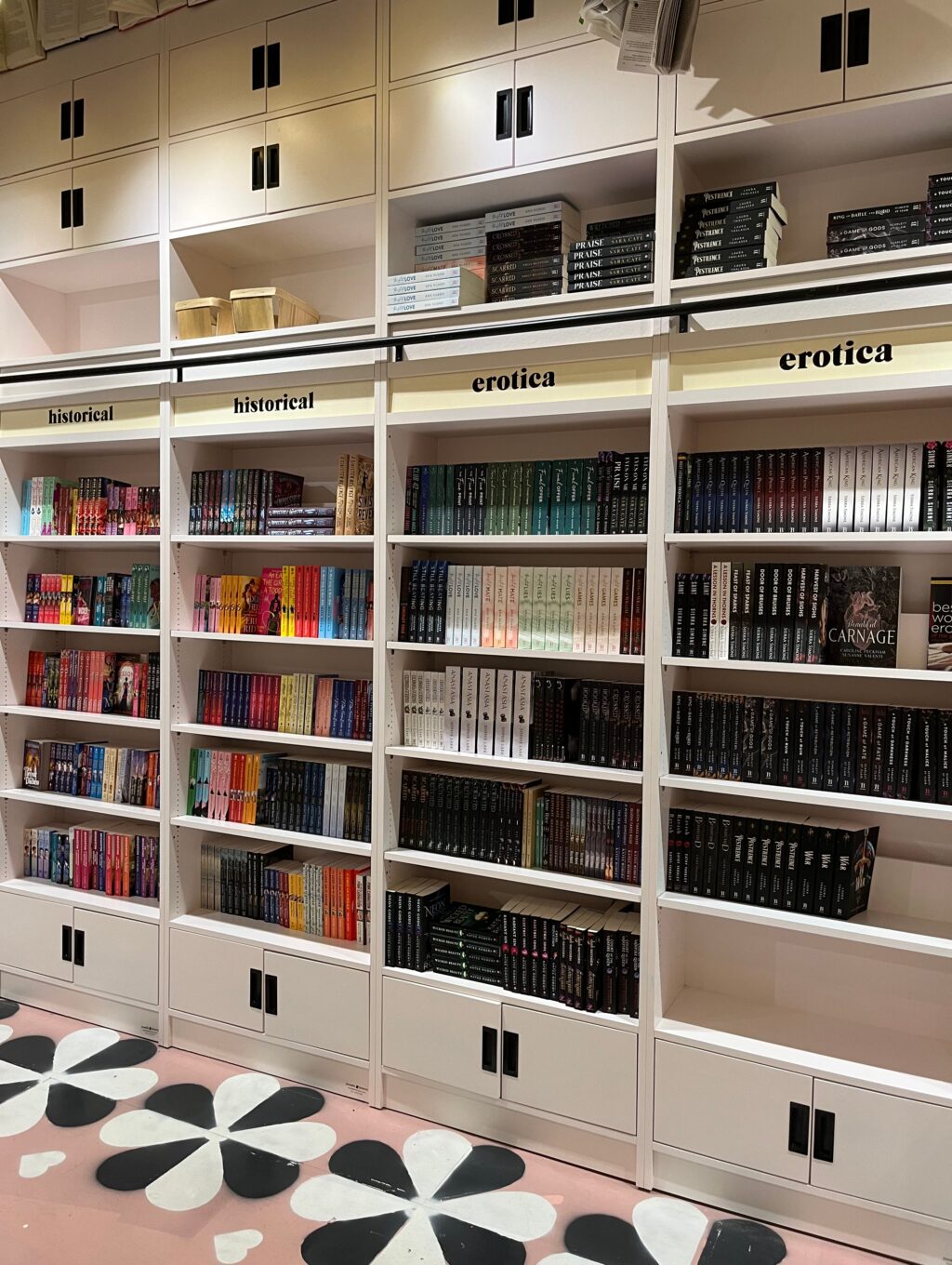 In case that isn't enough, there's also a sizable section of non-romantic bestsellers like "Crying in H Mart" by Michelle Zauner and "The Vanishing Half" by Brit Bennett.
My friend and I wove through every aisle, pointing out enemies-to-lovers books we'd heard good reviews of or seen on BookTok.
I came looking for a specific book in mind — "Shark Heart" by Emily Habeck — and while the store didn't have it in stock, the staff were happy to order it for me and it arrived two days later.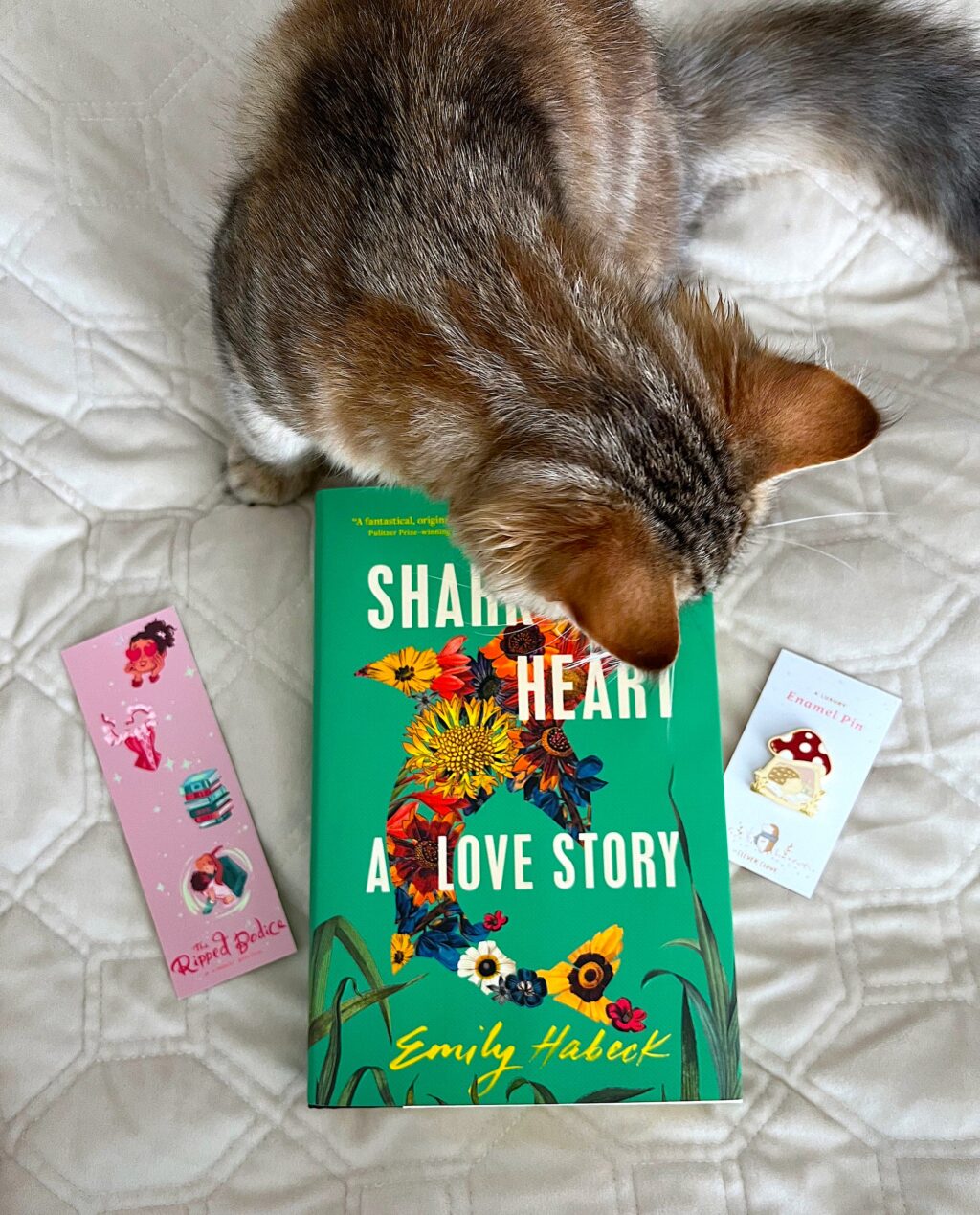 It made me realize just how many people love and crave some romance
While I've read and enjoyed romance books before, I've still been hesitant to call myself a fan. When I read "The Love Hypothesis" by Ali Hazelwood last year, I remember feeling a little self-conscious to admit I liked it. I was worried it would be perceived more like fluff than literature, and the cover of two cartoon characters making out certainly didn't help.
In other bookstores, I'd usually brush past the Colleen Hoover section, even though I've read two of her books, each within a weekend — always under the secrecy of my Kindle.
But at The Ripped Bodice, I felt comfortable enough to openly and excitedly browse romance books to my heart's content.
Since my first trip, I've been back to the store two times. With each visit, I've seen at least a dozen customers, and it's made me realize how many people probably feel the same way as me — comfortable showing their love of romance novels for the first time.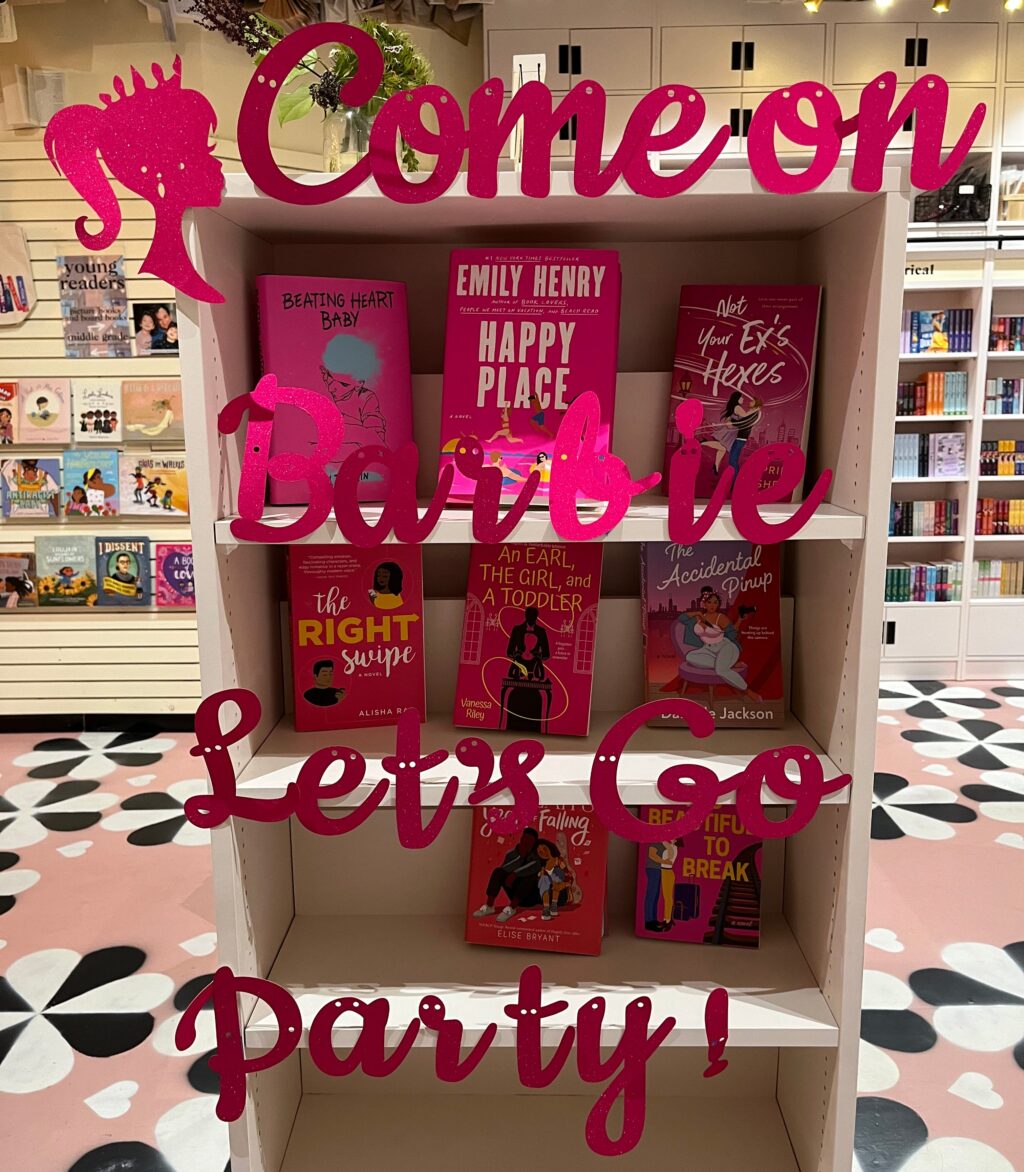 Some of the last books I've read — a beautiful novel about grief and a well-researched self-help book about anxiety — have been important and fulfilling, but not always enjoyable or easy to get through.
Sometimes, and especially in the summer, I just want to imagine two characters awkwardly bumbling through some low-stakes sexual tension. I want rambly declarations of passion and inconvenient kisses and the dream of everyone eventually finding their person.
Finally, I know where I can shamelessly search for it.
Read the original article on
Insider
Dit artikel is oorspronkelijk verschenen op z24.nl