Coal jumped on Wednesday after EU leader Ursula von der Leyen announced sanctions on Russian imports
Russian coal imports to Europe are worth over $4 billion annually, Von der Leyen said. 
Europe sources almost 50% of its coal from Russia annually, namely in Germany and the Netherlands.
Coal prices jumped on Wednesday after the European Union imposed restrictions on Russian imports, marking the bloc's first sanctions on the country's fossil fuels shipments.
"The fifth package has six pillars. First, we impose an import ban on coal from Russia. Worth 4 billion euros a year, finally, it was high time to take these steps. It's the first time we directly sanction the import of fossil fuels from Russia, thus cutting an important revenue source," EU Commission leader Ursula von Der Leyen said on Wednesday.
European coal prices rose sharply, logging a 15% increase since Friday, their biggest two-day rally since early March. Futures for coal deliverable in Rotterdam traded around $303 per ton – their highest since March 24. 
European coal prices have already risen by over 120% since the start of this year alone, and are up by over 300% since this time last year. 
Speaking on Wednesday, Von der Leyen said the EU must turn up the pressure on Russian President Vladmir Putin and his government, promising to limit the Kremlin's political and economic options, before noting that there will be more sanctions to come. 
—Ursula von der Leyen (@vonderleyen) April 6, 2022
The EU gets almost half its coal from Russia, with the majority going to Germany and the Netherlands, according to Commerzbank research, while the US and Australia supply 18% and 14%, respectively, according to Eurostat data.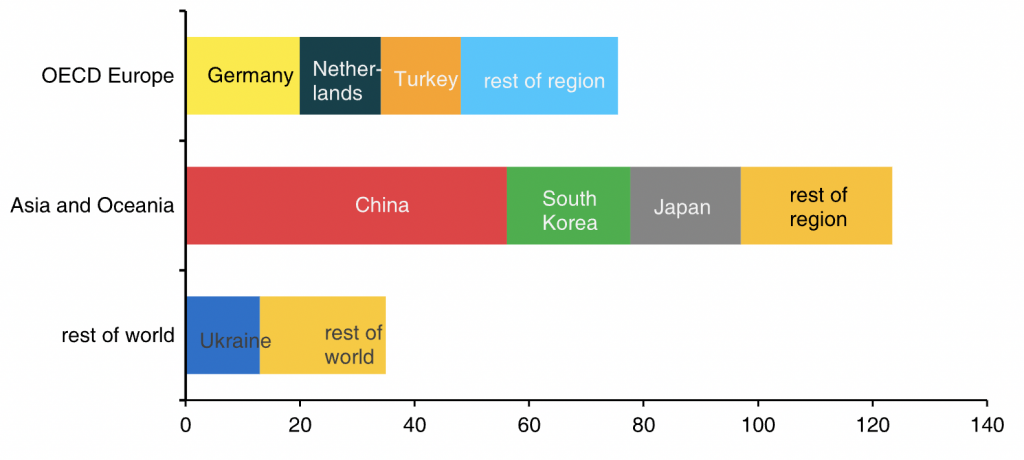 "The downside is that the embargo would have only a limited impact on Russia. Coal accounts for just 3.5% of Russia's export revenues, and only around a quarter of exports go to the EU," Commerzbank strategist Barbara Lambrecht said.
Oil and gas sanctions are still on the table, although a number of member states, including Germany have pointed out that ban on natural gas in particular might hurt the economies' of EU nations more than Russia's. 
Furthermore, while Von Der Leyen noted that Russian coal imports to EU nations were worth $4 billion a year, this is only a fraction of the bloc's total trading volume with the country for mineral fuels – coal, oil and natural gas. 
"In 2021, the total trade in goods between the EU and Russia amounted to €257.5 billion. The EU's imports were worth €158.5 billion and were dominated by fuel and mining products – especially mineral fuels (€98.9 billion, 62%)," a European Commission report on Russia said.