An ex-GOP congressman told Playbook that DeSantis didn't speak to him for two years during hearings.
"I was new to Congress, and he didn't introduce himself or even say hello," Trott said this week.
Trott told the outlet that they sat beside each other during Foreign Affairs committee hearings.
A former Republican congressman said Gov. Ron DeSantis of Florida didn't speak to him for two years despite the pair sitting next to each other during House Foreign Affairs Committee hearings and described the potential 2024 presidential contender as "arrogant," according to Politico Playbook.
Dave Trott, who represented Michigan's 11th Congressional District from 2015 to 2019, told Playbook that despite his close proximity to DeSantis, their interactions were virtually nonexistent.
"I sat right next to DeSantis for two years on the Foreign Affairs Committee, and he never said a single word to me," the former congressman wrote in an unsolicited email to Playbook. "I was new to Congress, and he didn't introduce himself or even say hello."
After receiving the email, Playbook called Trott, who expanded on his earlier comments over the phone.
"I go to my first [House Foreign Affairs Committee] hearing early, and DeSantis showed up right at the gavel time and didn't say hello or introduce himself," he continued. "And then the next hearing, the same thing happened. I think the third time it happened, I thought, 'Oh, this guy's not ever going to say hello to me.'"
Trott told Playbook he eventually introduced himself to DeSantis, whom he said had sharp political instincts despite their limited personal interactions.
"He's got an ability to size up the electorate and figure out what issues and hot buttons he needs to press to advance his political ambitions," he said. "There's no question there's a talent there. No taking that away from him."
But Trott said that such abilities aren't enough in the political world, which is rooted in building relationships and getting face time with lawmakers.
"If you're going to go into politics, kind of a fundamental skill that you should have is likability. I don't think [he] has that," Trott told Playbook. "He never developed any relationships with other members that I know of."
"You'd never see him talking on the floor with other people or palling around," he continued. "He's just a very arrogant guy, very focused on Ron DeSantis."
And the former congressman also said he wasn't shocked to see multiple House Republicans from the Sunshine State — including conservatives like Reps. Byron Donalds and Brian Mast — throw their support behind former President Donald Trump's 2024 presidential campaign over their own home state governor.
(DeSantis has not yet announced a campaign but is expected to do so once the Florida legislature ends its current session.)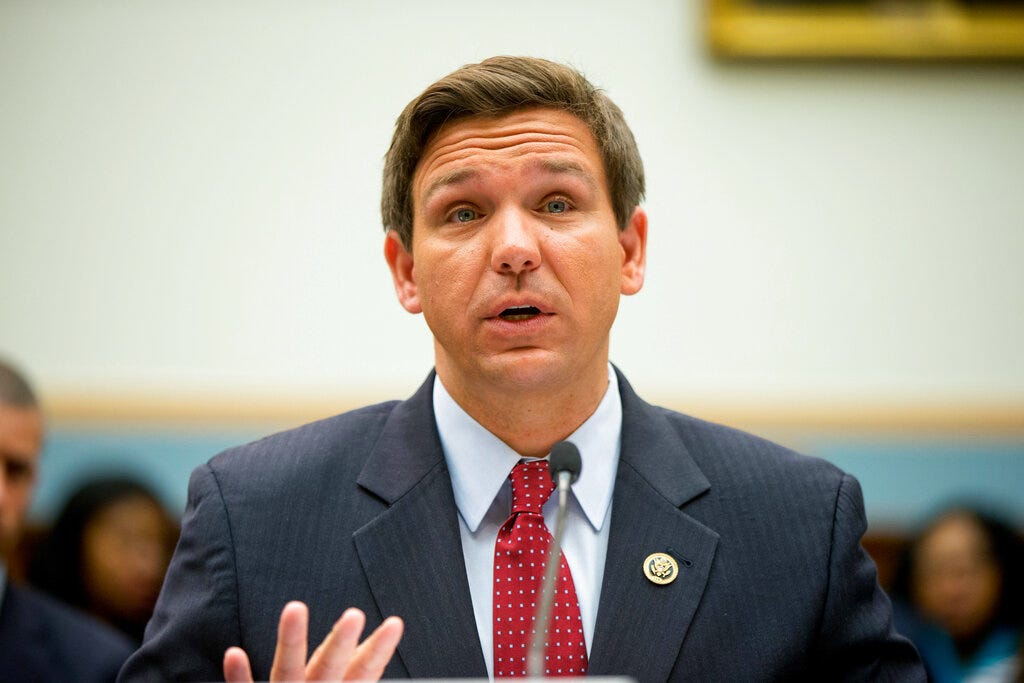 "He wasn't really liked when he was in Congress," Trott said of DeSantis, who served in the lower chamber from 2013 until 2018. "And now it's coming home to, you know, prove out as some of the Florida delegation endorsed Trump and some of the donors, you know, think he's kind of awkward in terms of how he interacts with them."
"If his pre-presidential campaign was playing out differently, then I'd say, 'Well, maybe he just didn't like me.' But I think there's something more at work here. I think he's an asshole. I don't think he cares about people," he added.
DeSantis resigned from Congress several months before the end of his term to concentrate on his 2018 campaign, which at the time was one of the most competitive gubernatorial contests in the country. He went on to narrowly defeat then-Democratic gubernatorial nominee Andrew Gillum by less than one percent of the vote.
However, building on GOP gains in Florida in recent years, DeSantis powered a nearly 20-point victory during his reelection campaign last fall, which helped create veto-proof legislative majorities that have greenlit his conservative agenda this year. 
If DeSantis pursues a presidential campaign as expected, he'll have to take down Trump, who retains considerable support from a broad swath of Republican voters and a constellation of officeholders across the country.
But as Trott noted, the governor will have to contend with the sort of retail politics that he's not especially known for, especially as Trump's recent leads in national Republican presidential primary polls have continued to rise.
Insider reached out to a representative of DeSantis for comment.