Gen Cohen lost 50 pounds and has kept the weight off for seven years.
She didn't cut out any foods but ate in a gentle calorie deficit.
Cohen shared an average day of eating before and after losing weight.
For years, Gen Cohen was either on a restrictive, unsustainable fad diet or overeating by getting takeout for most meals.
This meant that her weight yo-yoed for years, and whenever she lost some weight, she'd always regain more.
However, on her 21st birthday, Cohen decided to make a change and begin a fitness journey that would be healthy and last.
She ate in a small calorie deficit, prepared her meals in advance, and made sure she was eating plenty of protein. Most importantly, she didn't cut any foods out of her diet and was patient.
This resulted in Cohen losing 50 pounds in a year and maintaining her weight for the seven years since.
"I made a promise to myself that rather than hating myself towards skinny, I was going to love myself towards healthy," Cohen told Business Insider. "Every other time I had tried to lose weight, I tried to do it for a guy, for a vacation, for a special event, for New Year's, and this was the first time that I was really doing it for me."
Before losing weight, Cohen would eat pints of ice cream in one go.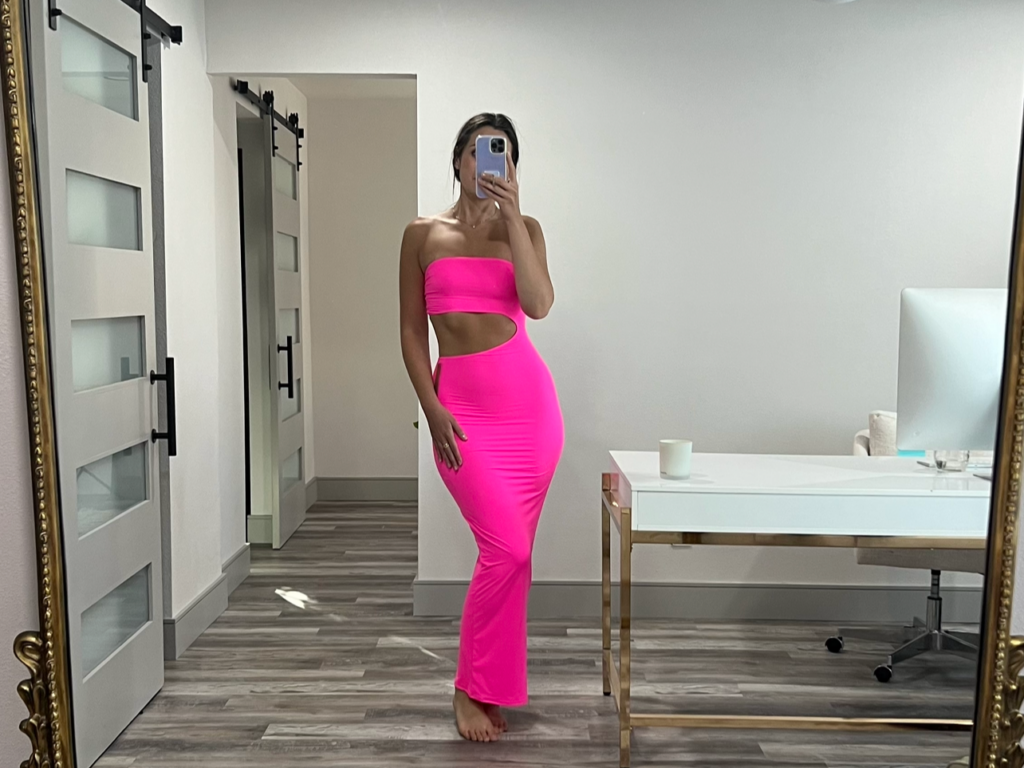 "I would eat very large amounts of food and feel physically terrible afterwards because I lacked a certain amount of self-love," Cohen said. But she worked on her mindset and self-love and no longer "lashes out with food," meaning she is now able to have a single serving of ice cream, for example.
Cohen, who is now a certified nutrition coach who helps other women lose fat, shared example days of eating with BI, showing how her diet changed before and after her weight loss.
Diet before losing weight
Leaving her family home to go to college meant Cohen could eat whatever she wanted, which was a novelty.
She ate out for every meal, which wasn't hard as she lived above a cafe, Cohen said.
An average day of eating would be:
Breakfast: Blueberry muffin or chocolate croissant, with a caramel macchiato

Lunch: Mongolian-style noodles with meat, vegetables, and oily sauces from a food stand

Dinner: Medium Domino's pizza and chicken caesar salad

Dessert: Pint of ice cream
"Domino's Pizza was my absolute favorite food," Cohen said. "And in college, you're pretty broke but for $5.99, you could get a medium-sized pizza and for an additional $5 you could get an entire chicken Caesar salad, so I'd literally just order that and eat all of it."
Cohen ate large meals so didn't snack much unless it was at a social setting. She'd eat desert about 50% of the time, she said.
Diet after losing weight
Cohen has maintained her weight loss by following the 80/20 principle: eating nourishing foods 80% of the time and whatever she fancies for the remaining 20%.
She snacks a little more because her meals are smaller, but on the whole she consumes less, which means she doesn't gain weight.
An average day of eating now:
Breakfast: Homemade protein pancakes (protein powder, egg, and ripe banana)

Lunch: Chicken, rice, and broccoli; or ground beef, sweet potato, and asparagus

Dinner: Ground turkey sweet potato skillet

Snacks: Apple, cup of Greek yogurt, protein shake, and/or rice cakes topped with cottage cheese and chili oil
Cohen keeps her lunches simple as she prepares them in advance, but she ensures they consist of a protein source, vegetables, and a starch, she said. Experts agree that a balanced meal should contain protein, carbs, fats, and fiber.
Dinner varies more, but once a week she and her boyfriend get take-out and once a week they go out to eat.
When cooking, she likes making healthier versions of her favorite energy-dense meals, allowing Cohen to maintain a healthy balance.
Read the original article on
Insider