Protests began after George Floyd, a black man, died after Minneapolis police officer Daniel Chauvin kneeled on his neck for nearly nine minutes while taking him into custody.
Chauvin was fired and later charged with third-degree murder and second-degree manslaughter days after Floyd died as protests roiled in cities across the US.
In addition to Floyd, the protests called for justice based on other deaths of black Americans at the hands of police officers, like Breonna Taylor, a 26-year-old black woman shot dead by police who got into a gunfight with her boyfriend while serving a no-knock warrant on their apartment.
Many of the protests have turned violent, and furor has grown over law enforcement's heavy-handed crowd-control tactics, including police cruisers ramming into protesters in New York on Saturday.
Law enforcement shot and killed a man in Kentucky on Monday during protests against police brutality in Louisville.
See how peaceful protest and violent clashes consumed parts of Minneapolis and other cities for seven tense days in a row.
---
George Floyd died on Monday, May 25 after a police officer kneeled on his neck while taking him into custody.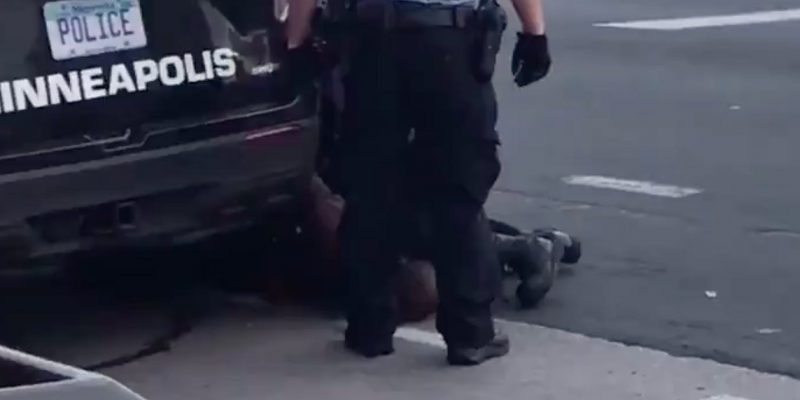 A video showed a white police officer kneeling on Floyd's neck for several minutes on Monday.
In the video, Floyd can be heard pleading for his life and saying he couldn't breathe.
"Please, please, please, I can't breathe," Floyd can be heard saying. "Don't kill me."
"Relax," said the officer, who has since been identified as Derek Chauvin. Floyd can be seen ceasing to move in the video.
Police said an ambulance took him to the hospital, where he was pronounced dead.
Minneapolis police released a transcript of the 911 call that led to the encounter with Floyd.
The four police officers involved in Floyd's death were fired the next day.
---
Protests began in Minneapolis on Tuesday, and escalated and spread across the country from Wednesday.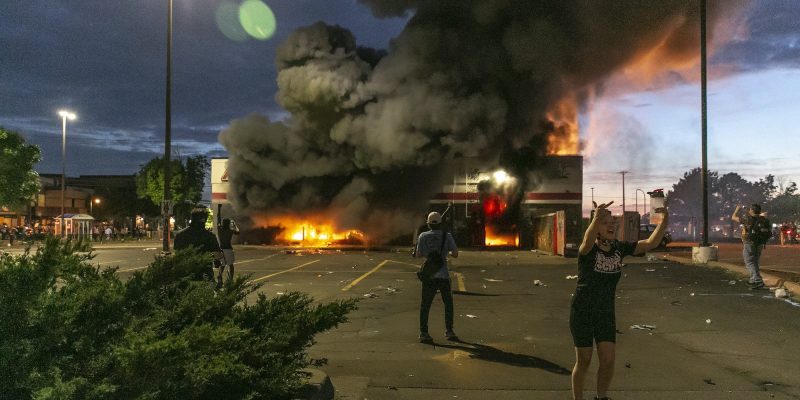 While protesters clashed with police on Tuesday, events turned more violent on Wednesday as looting began and stores were set on fire.
On Wednesday KSTP reported that protesters threw bottles and rocks at police officers, who responded with rubber bullets, flash-bangs, and tear gas. A man was fatally shot outside a Minneapolis pawn shop.
More city authorities were drawn into clashes with protesters and police when Union Minneapolis Bus Drivers agreed on Thursday to refuse to transport police officers and arrested protesters demonstrating after Floyd's death.
"We are willing to do what we can to ensure our labor is not used to help the Minneapolis Police Department shut down calls for justice," the petition reads. "For example, I am a bus driver with ATU 1005, and I urged people to call MetroTransit and the Governor the second I heard our buses and members were being organized to make mass arrests hours before the protests escalated."
---
Tensions seemed to escalate when stores were set on fire in the Twin Cities on Thursday. St. Paul police said that more than 170 businesses were looted or damaged.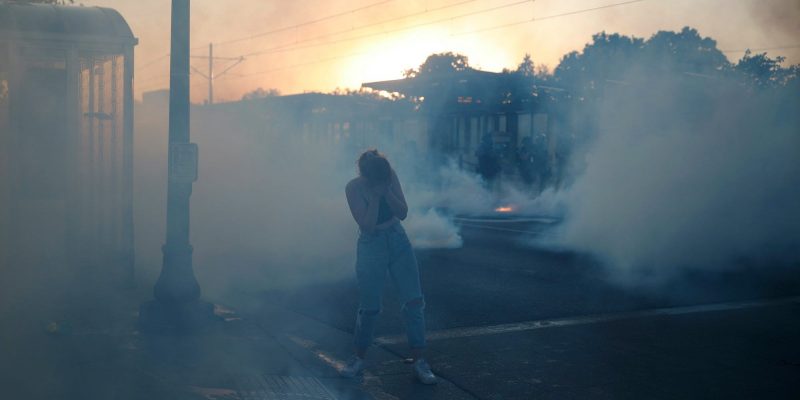 Local news station KTSP reported that a large fire started across the street from a Target in St. Paul as well as in front of several other businesses.
Police officers in the city were also attacked.
Protesters began to throw rocks, bottles, and even shopping carts at officers who were blocking the entrance to Midway Target, according to KMSP. Police said multiple fires were also set as large crowds gathered in the city.
Mayor Carter said "the anger, the anguish, the sadness, the rage that we're seeing in the community, it's understandable," according to the Pioneer Press.
"I think it's shared by a whole lot of people throughout humanity right now who have looked at that video [of Floyd] and just said: 'That doesn't feel like the kind of community, the kind of state, the kind of city, the kind of country, the kind of world that I want to live in,'" he said.
---
Later that night, protesters broke into the Minneapolis Third Police Precinct around 10 p.m. and set the building on fire.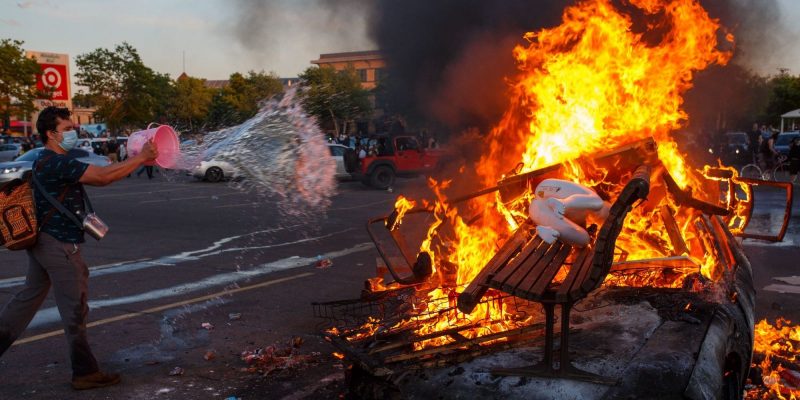 The precinct was evacuated at 10 p.m. local time, WCCO reported.
"Protesters forcibly entered the building and have ignited several fires," a police statement said.
Footage shows the building on fire:
According to CNN, police set up a fence around the precinct earlier in the day, but thousands of protesters crowded around the building after the fence was pushed down.
"The precinct is on fire. We don't know where the police are," said CNN National Correspondent Sara Sidner on Thursday night. "The fire alarm is going on inside … People are cheering and more fireworks are going off as the police precinct is burning."
A Target store in the area was also set on fire, and a shooting was reported in a nearby Walgreen's as well.
---
Target closed 24 Minnesota stores on Thursday following damage to multiple locations that were struck by looting and fires.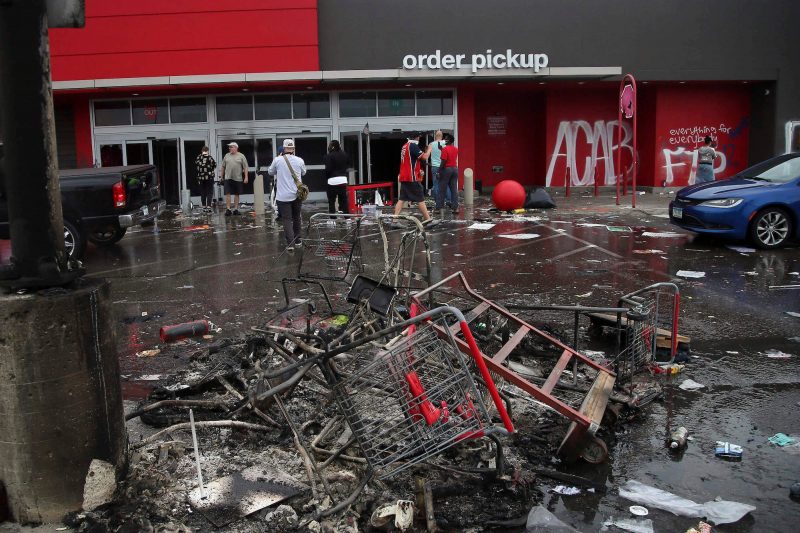 Target said it is closing 10 locations in Minneapolis and St. Paul, as well as 14 more in nearby areas, "until further notice."
"We are heartbroken by the death of George Floyd and the pain it is causing our community," Target said in a statement, according to the Star Tribune.
"At this time, we have made the decision to close a number of our stores until further notice. Our focus will remain on our team members' safety and helping our community heal."
---
In addition to dangerous clashes, Minnesota's state health commissioner warned on Thursday that the protests could lead to a surge in coronavirus cases.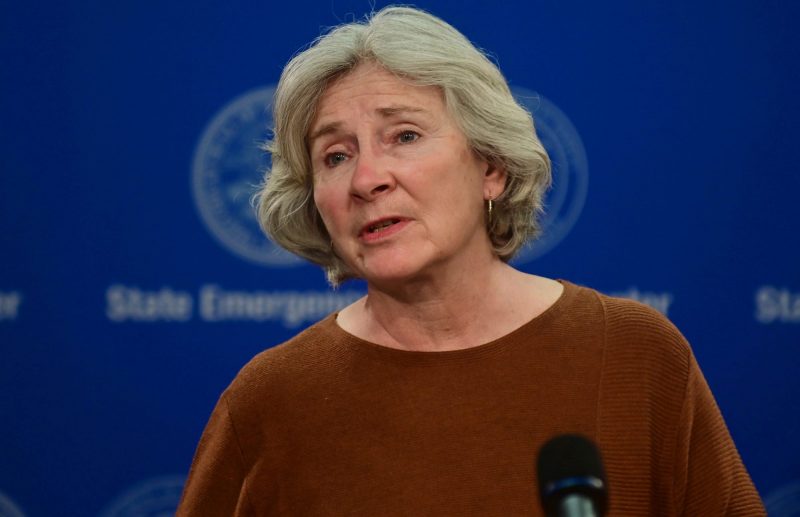 Jan Malcolm said Thursday that she understood why people are demonstrating, but asked them to remain cautious when gathering to help prevent the spread of the disease.
"People are moved to want to speak and to want to gather in solidarity and in protest, and we certainly honor and respect that right," Malcolm said, according to the Star Tribune.
"As we know, large gatherings do pose a risk in any epidemic, but certainly where we stand today with the state of COVID-19 spread in our community. Knowing that we have community spread, we just want to again encourage folks who gather to be mindful of the risk."
On Thursday, the state had a fifth-straight day of declining new coronavirus cases, but hospitalization rates remain high.
Protesters told Business Insider on Thursday why they felt it was important to protest Floyd's death, despite the threat of spreading the virus.
"The city has a knee on their neck," said Sam Pree-Gonzalez, executive project director for the Association for Black Economic Power. "Now the tables have turned, and COVID exposed a lot of disparities. This [death] has clearly exposed even further disparities."
---
Protests also began reaching tense heights in other cities on Thursday. Dozens of arrests were also made at protests in New York City.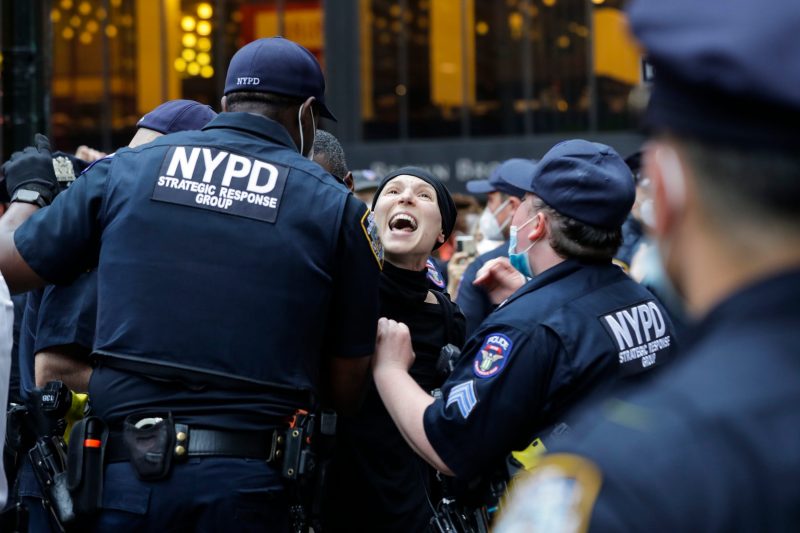 At least 70 people were arrested after protests turned violent in New York City on Thursday, according to the New York Post.
Dozens of protesters clashed with police while demonstrating and chanting: "No justice! No peace!" and "F— the police."
Protests also escalated in Columbus, Ohio, and Phoenix, Arizona.
---
A driver was accused of deliberately hitting a protester with a car in Denver.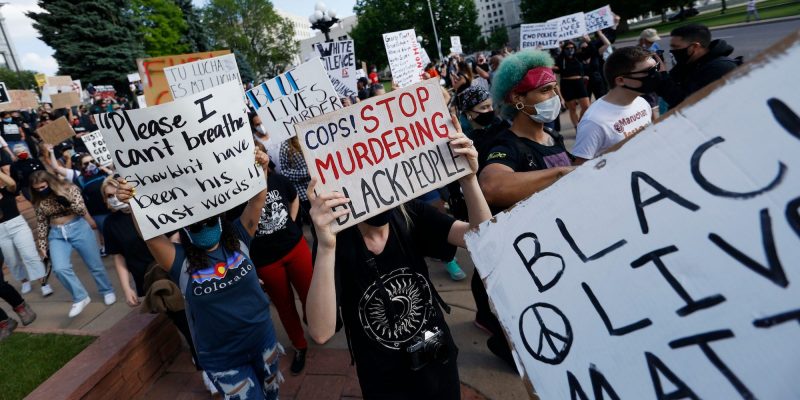 A graphic video of a protester getting hit by a vehicle that was pushing through a crowd of demonstrators was posted on Twitter.
The condition of the protester is not immediately known.
---
Earlier that day, Trump described the protesters as "thugs" and added: "When the looting starts, the shooting starts." Twitter said the comments violated the platform's rules "about glorifying violence."

Democrats and military veterans also spoke out against Trump's comments which appeared to suggest that National Guard troops may shoot looters.
Trump later clarified his tweets by adding that it was merely an "expression" that was "spoken as a fact, not as a statement."
"It's very simple, nobody should have any problem with this other than the haters, and those looking to cause trouble on social media," Trump tweeted.
However, his statement prompted scrutiny.
Business Insider's Tom Porter previously reported the idea that looting could result in a shooting was the "the same line has been used by former Miami police chief Walter Headley and other segregationists during the civil rights movement in the 1960s."
Trump later claimed that he was not aware of the statement's racially-charged history.
---
Minnesota Gov. Tim Walz said the protests were the result of "generations of pain, of anguish" over police brutality and racial issues.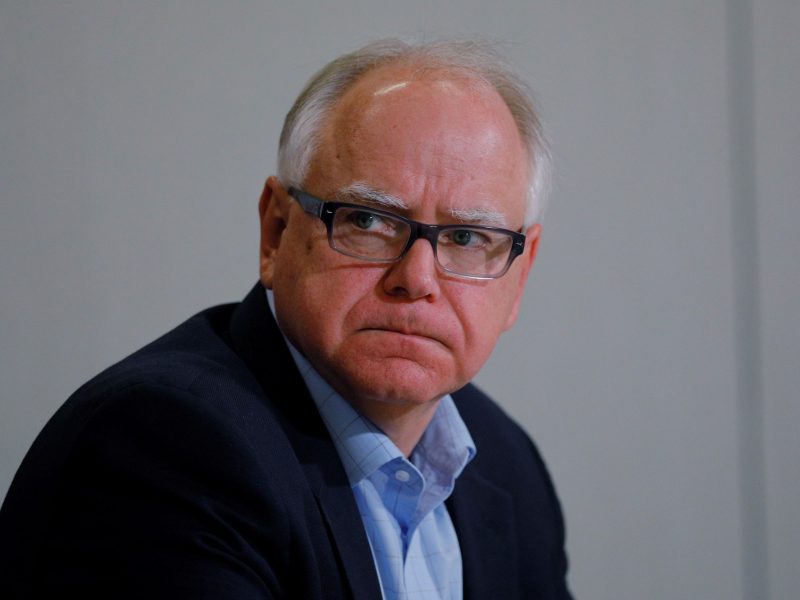 "The ashes are symbolic of decades and generations of pain and anguish, and now generations of pain is manifesting itself in front of the world," Walz told a press conference on Friday. "And the world is watching."
Walz also said justice against the officers who arrested Floyd will be "swift."
"It is my expectation that justice for the officers involved in this will be swift, that it will come in a timely manner, that it will be fair," Walz said.
---
Walz also apologized for the Friday morning arrest of CNN reporter Omar Jimenez while he was reporting on the protests live on air.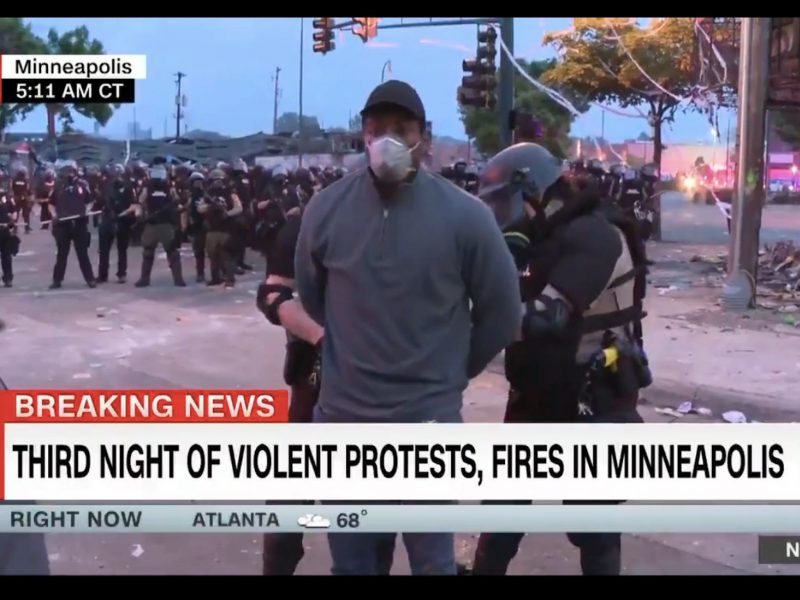 Jimenez was released from police custody about an hour later. However, it remains unclear why Jimenez, who is black, taken into custody despite identifying himself as a journalist.
CNN reporter Josh Campbell, who was also reporting on the scene and is white, said he had no trouble with the police.
Walz said later: "There is absolutely no reason something like this should happen. Calls were made immediately. This is a very public apology to that team. It should not happen and I want to be clear for those of you listening."
He said he took "full responsibility" for the incident, which he called "unacceptable."
---
On Friday morning, Minnesota's Attorney General Keith Ellison called Floyd's death "intolerable, absolutely unacceptable," and said he expects charges against the officers involved.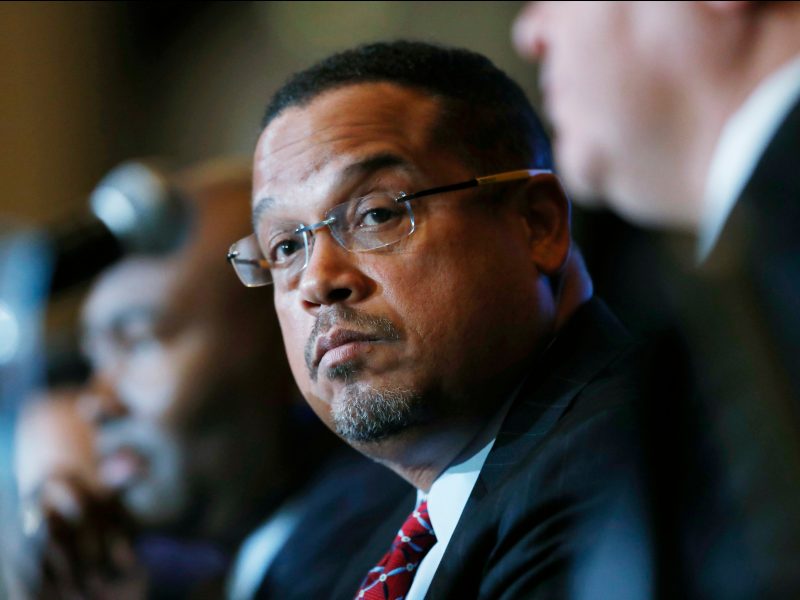 Ellison told a press conference on Friday that he anticipated charges will be brought against the police officers involved in Floyd's death.
He said Floyd's death was "intolerable, absolutely unacceptable," and that culture "must change."
He also said Minnesota officials plan form a group "on preventing and reducing deadly force encounters with police."
"We are not just going to fix the windows and sweep up the glass," he said. "We're going to fix a broken, shattered society that leaves so many people behind based on their historical legacy of being in bondage and servitude, then second-class citizenship, and now fraught with disparities from everything from incarceration to housing to wages to everything else."
---
Derek Chauvin, the police officer who was seen kneeling on George Floyd's neck, was taken into custody and charged with third-degree murder on Friday.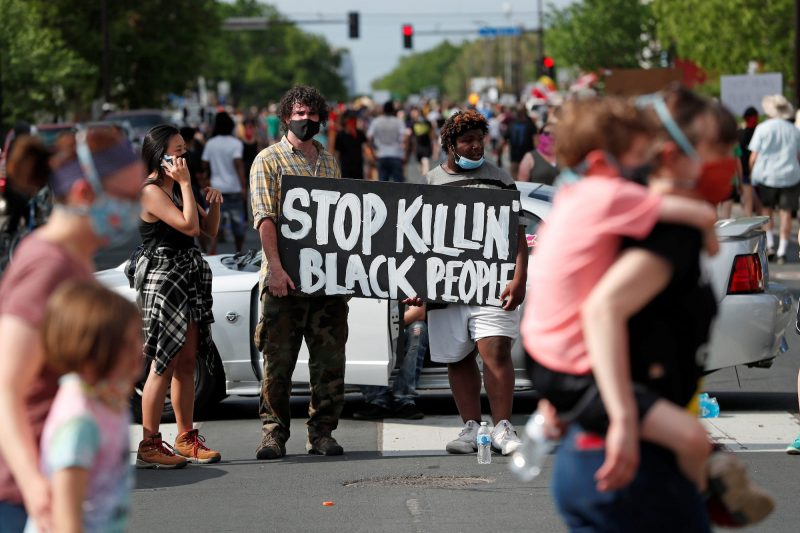 Chauvin was charged with third-degree murder and manslaughter in the case, Hennepin County Attorney Mike Freeman said in a press conference on Friday afternoon.
"This is by far the fastest we've ever charged a police officer," Freeman said, adding that it usually takes around nine months.
No other police officers are in custody. Freeman said he would not comment on the three other officers' situations, but said they could face charges.
Chauvin had been with the Minneapolis Police Department for 19 years until he was fired earlier this week.
---
The charging document against Chauvin also included preliminary results from Floyd's autopsy, which "revealed no physical findings that support a diagnosis of traumatic asphyxia or strangulation."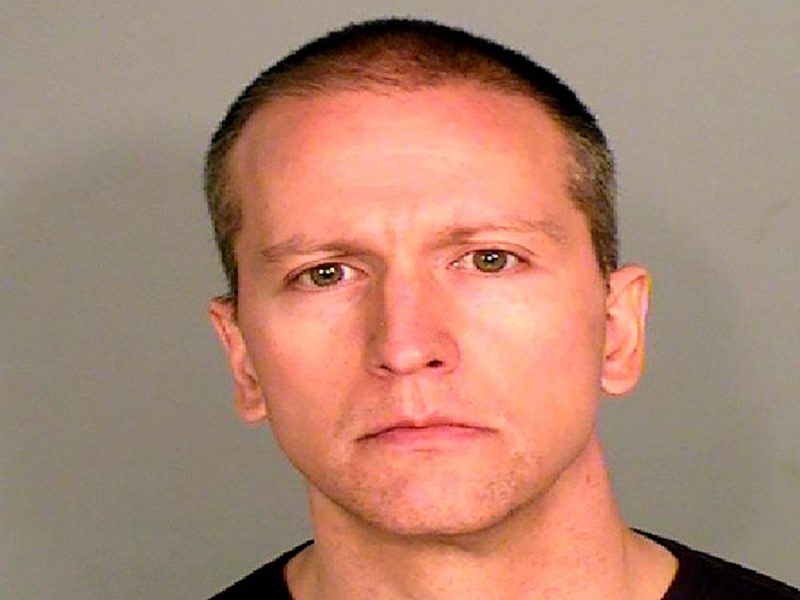 "The autopsy revealed no physical findings that support a diagnosis of traumatic asphyxia or strangulation," the charging document said ."Mr. Floyd had underlying health conditions including coronary artery disease and hypertensive heart disease."
"The combined effects of Mr. Floyd being restrained by the police, his underlying health conditions and any potential intoxicants in his system likely contributed to his death."
On Thursday, Floyd's family said they want to do an independent autopsy because "they do not trust … the city of Minneapolis."
---
Chauvin's wife filed for divorce, and is "devastated" by Floyd's death, according to her attorney.
"This evening, I spoke with Kellie Chauvin and her family," her attorneys said in a statement.
"She is devastated by Mr. Floyd's death and her utmost sympathy lies with his family, with his loved ones and with everyone who is grieving this tragedy. She has filed for dissolution of her marriage to Derek Chauvin."
See the full statement here:
---
Floyd's family called Chauvin being charged "a welcome but overdue step on the road to justice," and called for a first-degree murder charge.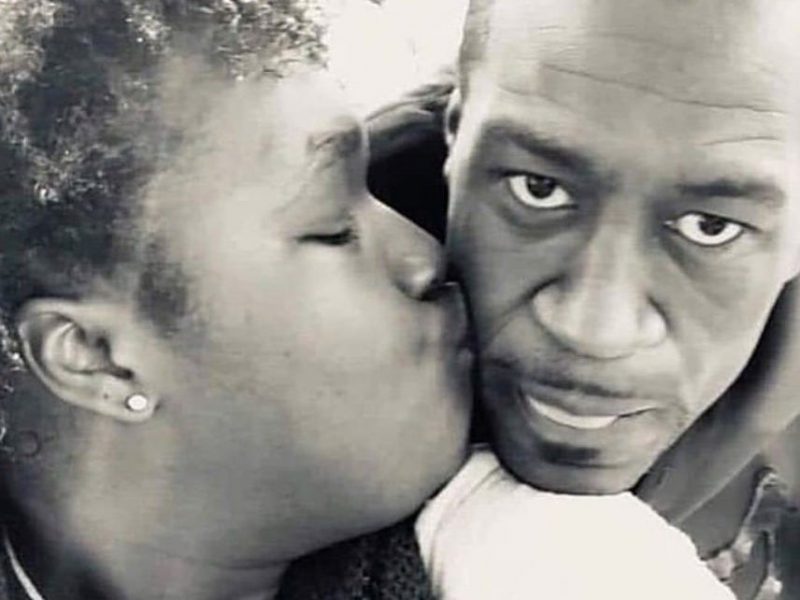 "The arrest of former Minneapolis police officer Derek Chauvin for the brutal killing of George Floyd is a welcome but overdue step on the road to justice. We expected a first-degree murder charge. We want a first-degree murder charge," the family said through their attorney, Benjamin Crump.
For a first- or second-degree murder charge, prosecutors would need to prove that Chauvin intended to kill Floyd, The New York Times reported.
The family continued: "And we want to see the other officers arrested. We call on authorities to revise these charges to reflect the true culpability of this officer. The pain that the black community feels over this murder and what it reflects about the treatment of black people in America is raw and is spilling out on to the streets across America."
They also called on Minneapolis and cities across the US to change their policies and trainings to make sure deaths like Floyd's never happen again.
"For four officers to inflict this kind of unnecessary, lethal force – or watch it happen – despite outcry from witnesses who were recording the violence – demonstrates a breakdown in training and policy by way of the city," the family said.
"We fully expect to see other officers who did nothing to protect the life of George Floyd to be arrested and charged soon."
---
Attorney General William Barr announced Friday that the Department of Justice would launch an independent investigation into Floyd's death.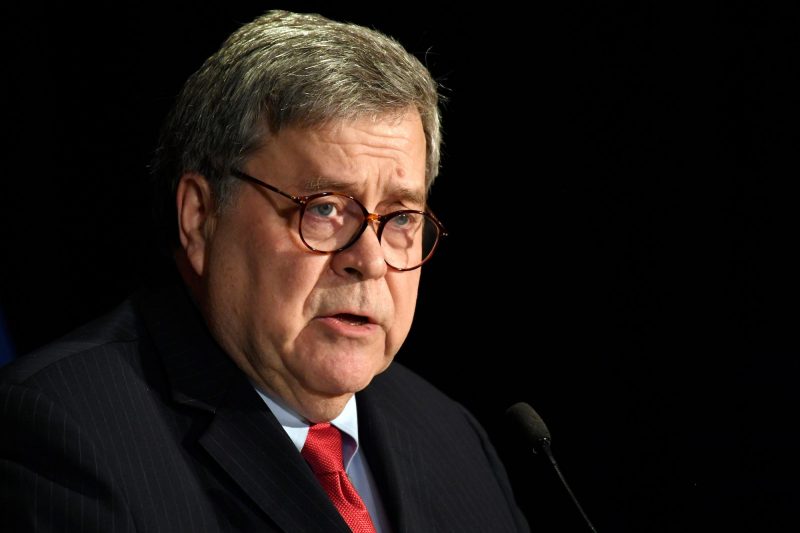 Barr said in a Friday statement that the Department of Justice is conducting an independent investigation to determine whether or not any civil rights laws were violated in Floyd's death.
"The video images of the incident that ended with death of Mr. Floyd, while in custody of Minneapolis police officers, were harrowing to watch and deeply disturbing," Barr said.
---
Earlier on Friday, a new video appeared to show three Minneapolis police officers pinning George Floyd to the ground.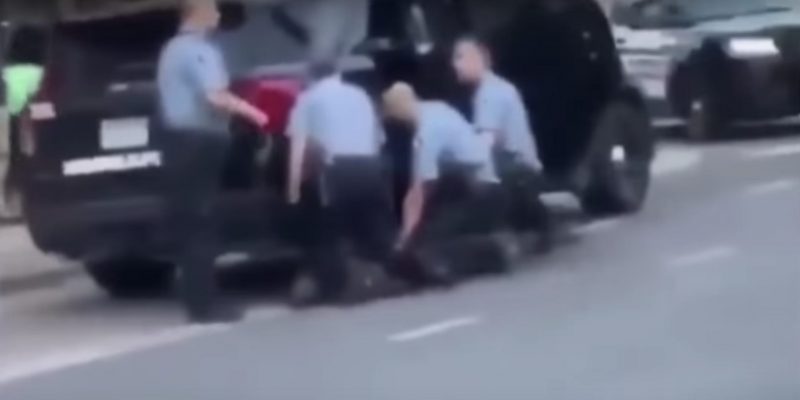 Previous videos of the incident showed just one officer, Derek Chauvin, kneeling on Floyd's neck, but a new video shows three officers pinning him to the ground with their knees as he begged to be released.
While the four officers involved in the incident have been fired, only Chauvin has been arrested and charged.
The video may be upsetting to some viewers. It appears to show Floyd crying out in distress and repeatedly telling the officers he couldn't breathe.
"Please, please let me stand," Floyd could be heard saying. "Please, I can't breathe."
It's not known who took the video, and its authenticity has not been confirmed. But NBC News, who first reported on the video, verified it using Google Street View imagery and statements from police.
---
After protests reached a fever pitch late Friday, Minnesota activated the entire National Guard for biggest protest response in the state's history after tensions boiled over in Minneapolis into the weekend.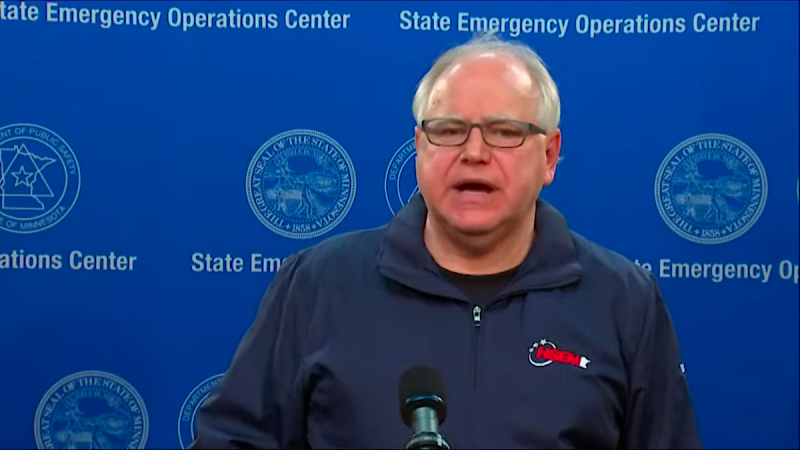 Minnesota Gov. Tim Walz said on Saturday morning that the state would activate its entire National Guard.
The additional 1,000 National Guard authorities planned to respond on Saturday made it the largest in the state's history and three times larger than that used during race riots in the 1960s, St. Paul's KSTP reported.
On Thursday, 500 National Guard soldiers and airmen were activated before another 200 were activated Friday night, the National Guard told KSTP.
The Minnesota National Guard said in a tweet that the deployment would include 1,000 additional "Citizen-Soldiers and Airmen" in addition to the 700 that were already on duty.
---
They also begged people to go home.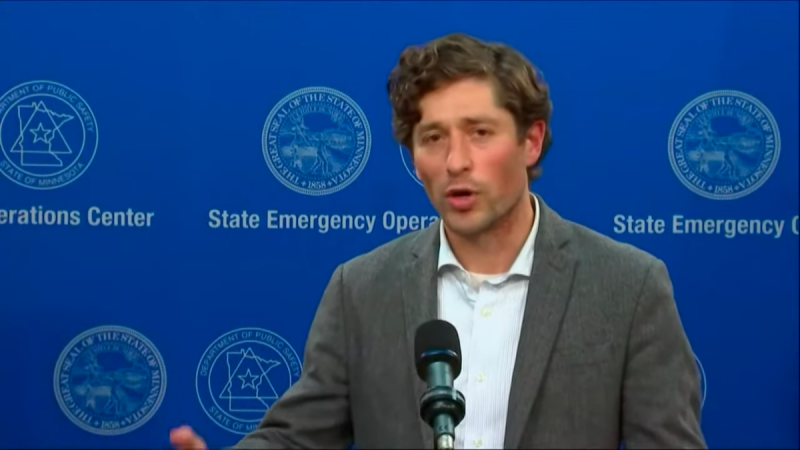 "The absolute chaos – this is not grieving, and this is not making a statement that we fully acknowledge needs to be fixed – this is dangerous," Walz said, according to the Star Tribune. "You need to go home."
Mayor Jacob Frey of Minneapolis added, according to the Star Tribune: "Minneapolis, I know you are reeling … We as a city are so much more than this. We as a city can be so much better."
Watch the full press conference here:
---
Despite pleas from lawmakers across the country, other outbreaks of violence, vandalism, and destruction were also seen in a number of cities into the weekend.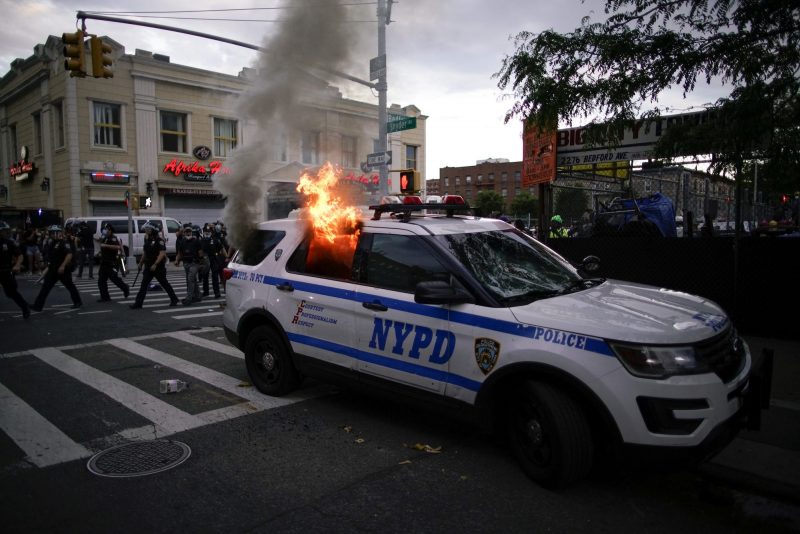 Police cars were toppled, vandalized, or lit on fire in numerous cities, including New York City, Chicago, Miami, and Los Angeles.
In Philadelphia, protesters swarmed a statue of a former mayor, Frank Rizzo, who has been widely criticized for policies that discriminated against black residents. Protesters vandalized the statue and tried to pull it down and light it on fire.
Widespread looting was also reported, including in downtown Seattle, a Nike store in Chicago, and The Grove mall in Los Angeles, where security guards reportedly begged looters to stop, pleading, "We're one of you."
In Seattle, looters ransacked a local Cheesecake Factory restaurant. One protester appeared to make off carrying an entire cheesecake.
Protesters and officers also clashed in Chicago:
A number of police officers across the country were also injured in the protests. Philadelphia authorities said 13 officers were injured in the clashes, and two police officers in Richmond, Virginia, were reportedly hospitalized after being struck with a baseball bat and a beer bottle, according to the Richmond Times-Dispatch.
The Denver Police Department also tweeted that three of its officers were severely injured after a vehicle struck a police cruiser.
Target has also temporarily closed 175 stores across several states.
"Our focus will remain on our team members' safety and helping our community heal," the retailer said in a statement.
---
Georgia Gov. Brian Kemp issued a state of emergency for Fulton County and activated as many as 500 troops from the Georgia National Guard.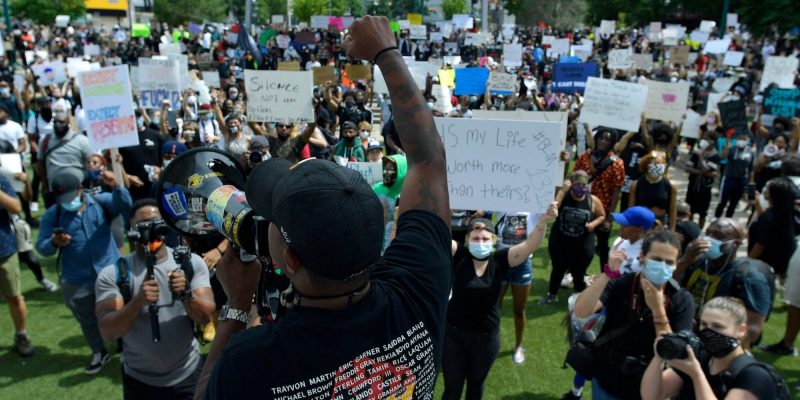 In a tweet, Kemp said he would activate state National Guard troops "to protect people & property in Atlanta."
Atlanta's Chief of Police, Erika Shields, went out into the crowds Friday and talked to individual protesters to hear out their concerns.
https://twitter.com/joonhopekook/status/1266494398080172032?ref_src=twsrc%5Etfw
The CNN Center in Atlanta was circled by protesters.
CNN correspondent Nick Valencia reported from the building's lobby with a line of police with riot shields in the background.
Debris littered the entrance as people outside threw rocks, bottles, smoke grenades, and in one instance, a lit firework which detonated inside the lobby.
CNN's Fernando Alfonso III reported that SWAT cars approached the CNN Center as protesters climbed the CNN sign and held up "Black Lives Matter" flags.
The CNN logo was defaced and graffitied, and flags were burned. Bottles were thrown and the glass on the building was shattered, and protesters chanted "no more police."
Protesters also began destroying police cars after dispersing away from the center.
Elsewhere, protesters ran in fear of possible tear gas being deployed, according to CNN.
Demonstrators also clashed with police, WAGA-TV reported. The protesters were headed towards Atlanta Police Headquarters but rerouted due to blocked streets.
Protesters chanted "Justice now," "Police the police," and "black lives matter."
Pepper spray was reportedly used to break up some of the protesters.
Mayor Keisha Lance Bottoms of Atlanta urged residents to avoid violence.
"When lives and the conscience of this nation are at peril, we as people are expected to exercise our constitutional rights to peacefully assemble and have our voices heard," she tweeted. "Atlanta embodies these values, and I encourage all who exercise these rights to remember Atlanta's legacy of peaceful protest leading to progress."
---
Demonstrators in Dallas retaliated against police and damaged police vehicles. One video shows a can of tear gas going off inside a woman's car.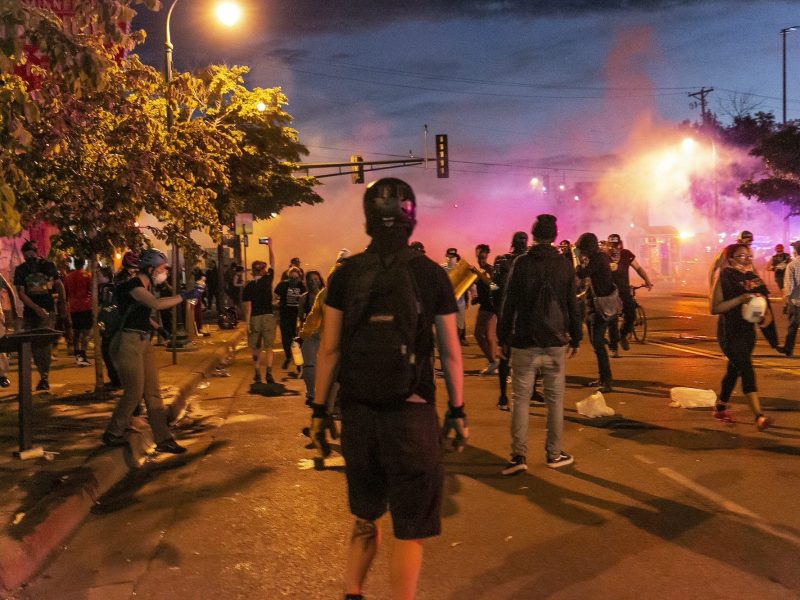 Dallas Police Chief Reneé Hall confronted a rioter in the city and told him to stop attacking police officers supervising the protests in the city.
---
In Louisville, Kentucky, police were seen spraying pepper bullets at protesters. Police also shot them at a reporter and a cameraman covering the scene.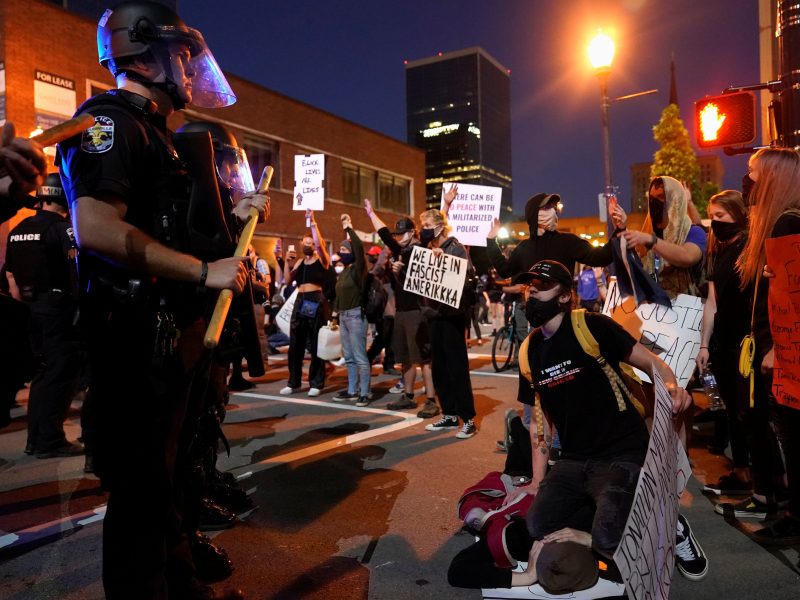 The Louisville protesters were also demanding justice for Breonna Taylor, a black woman who was shot eight times and killed by police carrying out a narcotics bust in March.
Taylor's family said in an April lawsuit the police had entered the wrong address, and Taylor's boyfriend said the police didn't announce themselves while entering.
Police sprayed demonstrators with pepper bullets to disperse the crowd.
Wave 3 News reporter Kaitlin Rust was also shot at while she was broadcasting live, and the cameraman captured a police officer aiming pepper bullets.
Rust also reported that protesters had breached the Louisville Hall of Justice and lit a fire inside the building. The extent of damage to the building is not immediately known.
Kentucky state Rep. Attica Scott tweeted that she was among those tear-gassed during the riot.
"This was after one of your officers kept pushing me without ever asking me to move," Scott wrote. "This was after we were never asked to disperse. This was during a peaceful protest. LMPD met peace with violence. I'm disgusted."
Seven people were also shot at during protests on Thursday, Louisville Metro Police Department told Business Insider.
---
Demonstrators in Washington, DC, clashed with police outside the White House, with multiple injuries reported. The Secret Service briefly put the White House on lockdown.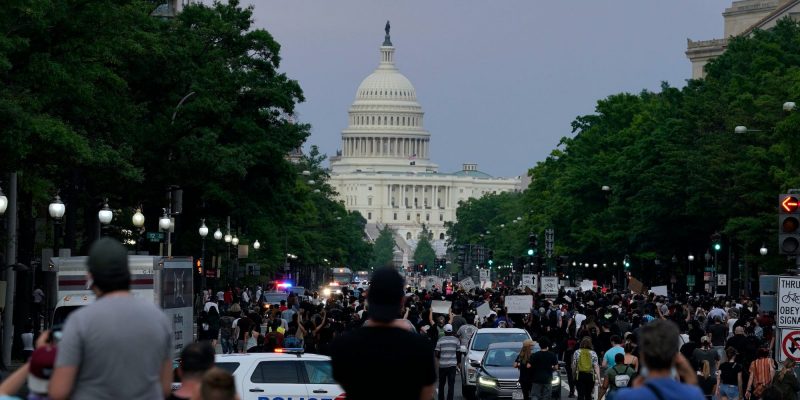 Protesters at the North Lawn of the White House attempted to break down the barricade as they confronted Secret Service agents and DC police on Friday.
According to CNN, a crowd of hundreds of protesters was "set off" by a man who police were trying to escort from the protests.
Protesters clashed with Secret Service Police in Lafayette Park, which is across the street from the White House, NBC Washington reporter Tom Lynch tweeted.
Hunter Walker, the White House correspondent for Yahoo News, tweeted from the scene: "I saw multiple police being carried away. They seemed injured or at the very least hit with spray. Multiple injuries among the protesters as well."
Police also unleashed tear gas on some protesters, The Washingtonian's Jane Recker reported.
The US Secret Service put the White House on lockdown Friday due to the protests, NBC News reported. The order was lifted later that night, CNN reported.
During the lockdown, people were forbidden to leave White House grounds, and the doors of the briefing room – where a dozen of reporters – were locked, according to NBC News reporter Peter Alexander.
---
Protests continued in New York City, with more arrests reported. Footage circulated of an NYPD officer appearing to throw a protester to the ground with great force.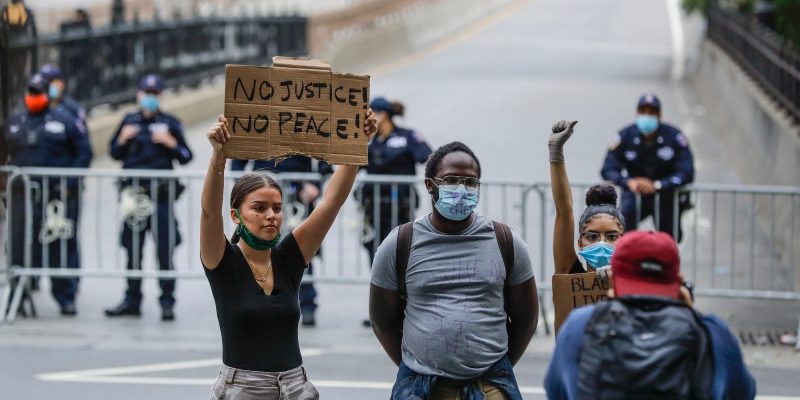 Peaceful protests turned violent on Friday. Reporters posted videos of police officers hitting protesters with batons.
Newsweek reporter Jason Lemon also posted a video showing a NYPD officer violently throwing female protester to the ground. Lemon said the officer also called the protester a "stupid f—ing bitch."
The officer is now under investigation, NBC New York reported, citing the NYPD.
A woman who identified herself as the protester, posted photos of herself in the hospital and tweeted that the officer "told me to get out of the street and then immediately threw me out of the way."
Some protesters also threw glass and plastic water bottles at police, CNN reported.
A video of a NYPD police van on fire in Brooklyn was posted on Twitter late Friday night.
Another reporter tweeted an image of officers putting arrested protesters on busses.
One bus driver tasked with driving the arrested protesters to the Barclays Center refused to drive it in solidarity with the other demonstrators.
The protests were organized by the NYC Justice League, and protesters were urged to keep in mind safety protocols in light of the coronavirus pandemic.
Mayor Bill de Blasio of New York City urged protesters to be peaceful and socially distant. New York Gov. Andrew Cuomo supported the protests, CBS New York reported.
---
Elsewhere, a 19-year-old man was killed in Detroit after someone in an SUV fired shots into a crowd protesting Floyd's death late Friday night.
The shooting took place 11:30 p.m. Friday night, Detroit police spokeswoman Sgt. Nicole Kirkwood said Saturday, according to the AP.
The suspect pulled up in a Dodge Durango SUV and fired shots into the crowd, Kirkwood said, per the AP. No police were involved in the shooting, she added.
The victim, an unnamed 19-year-old man, was pronounced dead in the hospital.
The identity and motive of the suspect are not immediately known.
---
President Donald Trump addressed Floyd's death on Saturday when he alleged Antifa and "radical far-left groups" were responsible for the violent protests that erupted across the country.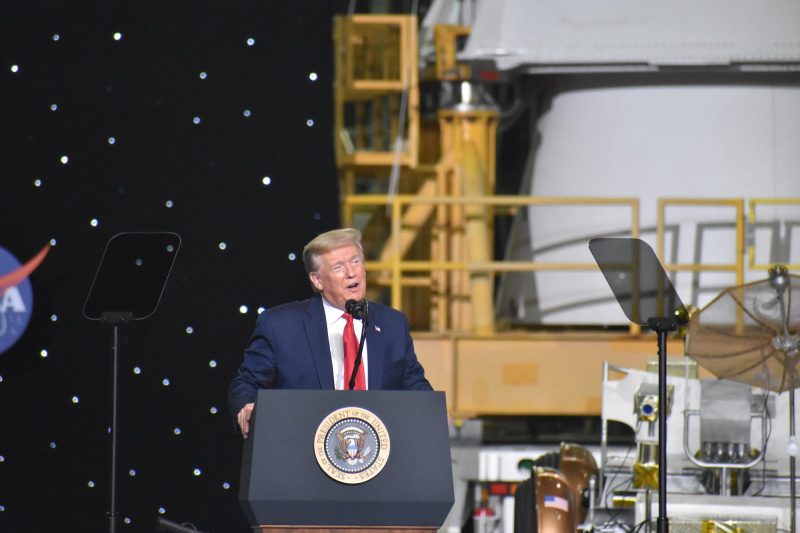 Trump on Saturday issued lengthy remarks on George Floyd, the Minneapolis man who was killed on Monday when police officer knelt on his neck for roughly eight minutes.
He condemned Floyd's death, and vowed to stop the "mob violence" that has plagued the country in recent days.
"The death of George Floyd in the streets of Minneapolis was a grave tragedy," Trump said during remarks at the Kennedy Space Center in Flordia after viewing the SpaceX launch. "It should never have happened. It has filled Americans all over the country with horror, anger, and grief."
"What we are seeing now on the streets of our cities has nothing to do with justice or with peace," Trump said. "My administration will stop mob violence, and we'll stop it cold. It does not serve the interests of justice or any citizen of any race, color, or creed for the government to give in to anarchy, abandon police precincts, or allow communities to be burned to the ground. It won't happen."
---
George Floyd's brother, Philonise Floyd, told MSNBC on Saturday that Trump called him, but didn't give him "the opportunity to even speak."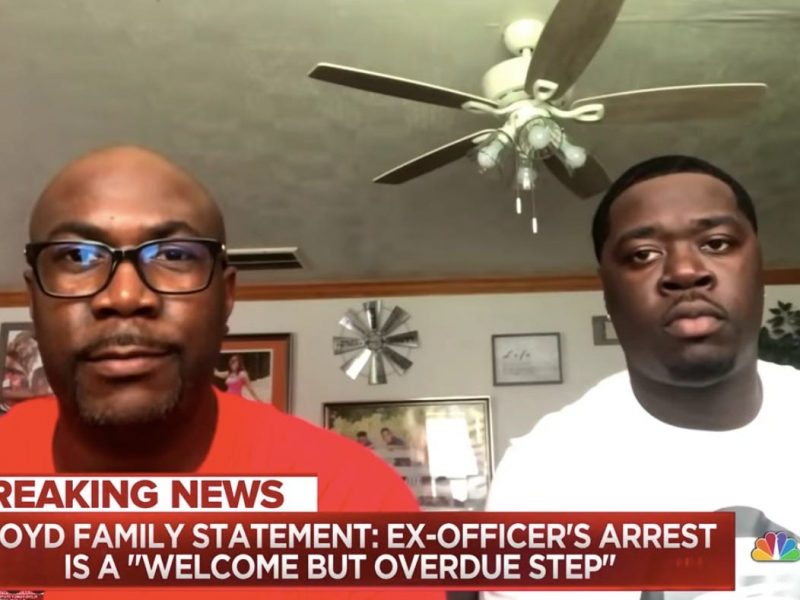 In an emotional interview with Rev. Al Sharpton on MSNBC on Saturday, Floyd's brother, Philonise, said he spoke to both President Donald Trump and former vice president Joe Biden.
On the call with Trump, Floyd said: "It was so fast. He didn't give me the opportunity to even speak. It was hard. I was trying to talk to him but he just kept like pushing me off like 'I don't want to hear what you're talking about.' I just told him I want justice. I said that I can't believe that they committed a modern-day lynching in broad daylight."
"I can't stand for that, that hurt me. I just don't understand, man. Why we have to go through this? Why we gotta have all this pain, man?" he added.
Referring to his call with Biden, Floyd said: "I never had to beg a man before but I asked [Biden] could he please, please get justice for my brother, please."
Floyd's brother is pushing to have the third-degree murder charge against former Minneapolis police officer Derek Chauvin to be upgraded to first-degree murder. He also wants the other three police officers who were present during the incident to be arrested.
---
Police across the country were accused of using heavy-handed tactics against protesters over the weekend — mowing them down with cruisers, destroying water jugs, and shoving people to the ground.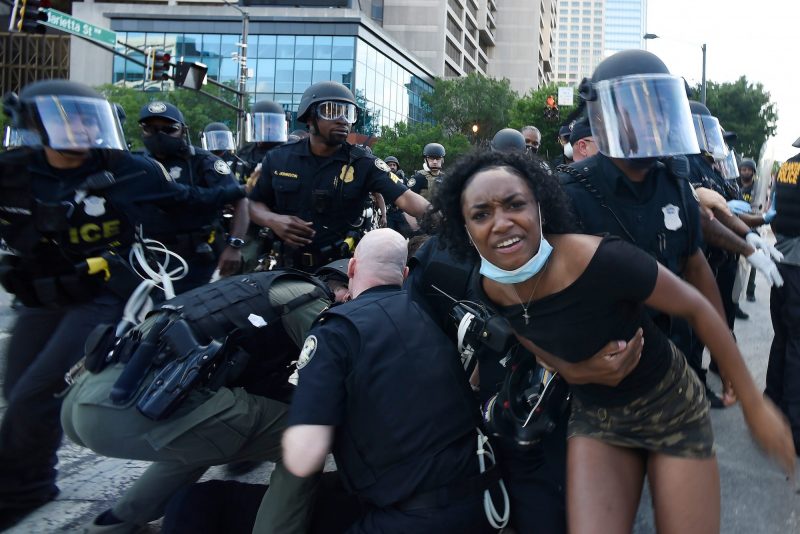 Throughout the day on Saturday, protesters in multiple cities reported increasingly intense clashes with police.
A video from Louisville, Kentucky, appeared to show plainclothes police officers destroying jugs of water and throwing bottles into the back of a pickup truck while riot police guarded them.
Police in Salt Lake City, Utah, were captured on video shoving an elderly man with a cane, forcing him to fall on the ground.
Another video from New York showed a police officer pulling down a man's face mask and spraying him with what appeared to be pepper spray.
Even members of the media reported mistreatment by the police – including being struck with rubber bullets or sprayed with tear gas.
Several journalists were also arrested Saturday evening, including WCCO photojournalist Tom Aviles in Minneapolis, and HuffPost reporter Christopher Mathias in New York.
---
Videos taken in New York City showed police cars driving directly into a barrier and ramming down protesters on the other side. The city's mayor, Bill de Blasio, said the video was "upsetting" and he wished "the officers hadn't done that."
Here is footage of the incident:
At a press conference late Saturday evening, de Blasio said: "Look, I've seen that video and I've obviously heard about a number of other instances – it's inappropriate for protestors to surround a police vehicle and threaten police officers. That's wrong on its face and that hasn't happened in the history of protest in this city."
"I'm not going to blame officers who were trying to deal with an absolutely impossible situation. The folks who were converging on that police car did the wrong thing, to begin with, and they created an untenable situation," he said.
De Blasio added that he wished the police officers "found a different approach" but the protesters also "did the wrong thing to surround that police car."
---
The US capital also saw another day of protests which turned violent after some people burst through barricades close to the White House.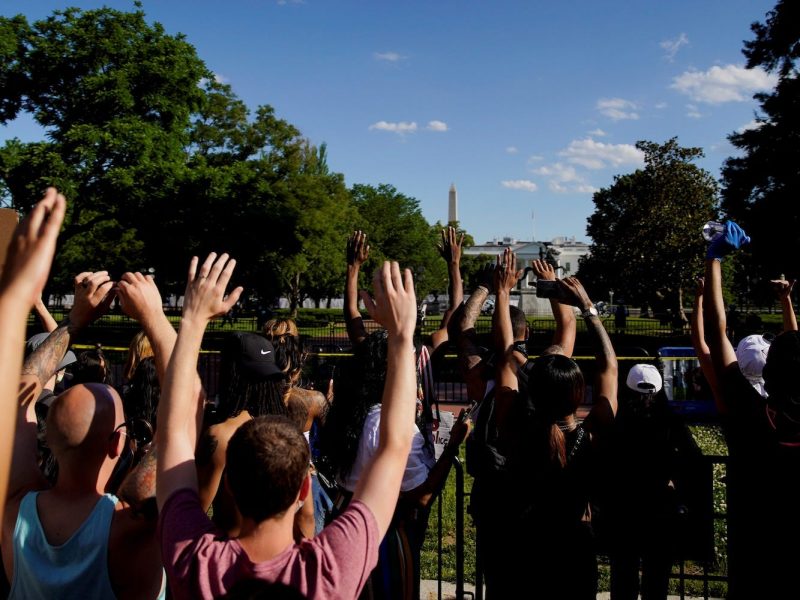 The crowd was quickly driven out by police, who were using shields, batons, and pepper spray as methods to disperse them.
But the protesters continued to resist, damaging several Secret Service vehicles and setting nearby dumpsters and cars on fire.
---
Police also violently arrested and shot less-lethal rounds at journalists covering the protests.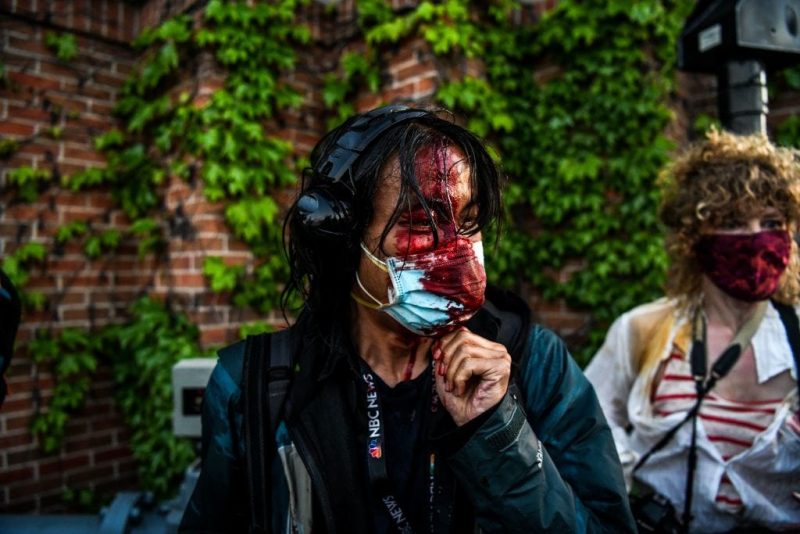 By Sunday morning, dozens of journalists across the country have been arrested, assaulted, or shot with less-lethal munitions, such as rubber bullets, while covering the Black Lives Matter protests that have erupted in cities across the country.
In many of these cases, journalists identified themselves before being arrested or shot at and appeared to have been targetted – though in other cases, journalists were caught up in a massive display of force by police against protests raging in cities across the nation.
---
In addition to police forces, the National Guard said that 5,000 troops were activated to respond to unrest in 15 states and DC with thousands more ready to go.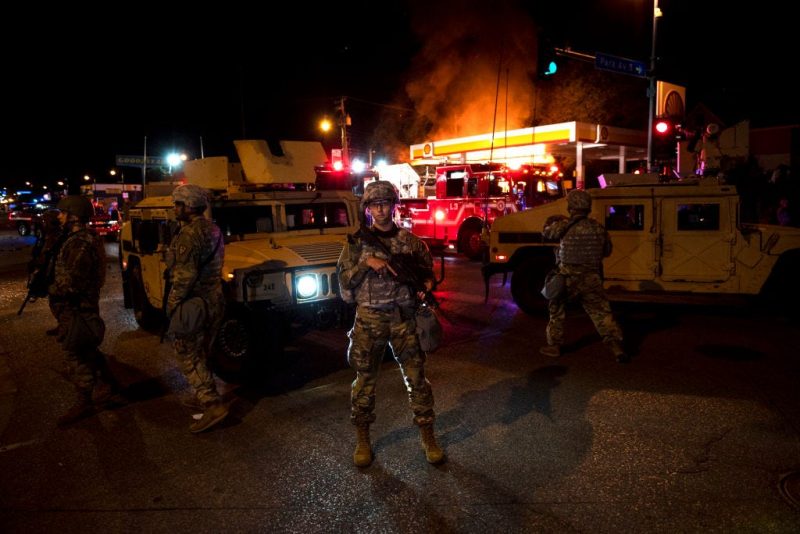 The National Guard announced Sunday that approximately 5,000 troops have been activated to respond to unrest in 15 different states and Washington, DC.
"The situation is fluid so those numbers can change rapidly," the statement said, adding that another 2,000 troops are ready to act if needed.
National Guard forces are active in 15 different states and one district including California, North Carolina, South Carolina, Georgia, Pennsylvania, Indiana, Kentucky, Minnesota, Utah, Ohio, South Dakota, Washington, Tennessee, Texas, Wisconsin, and Washington D.C.
---
Outside the US, thousands on Sunday participated in Black Lives Matter protests including in the UK, Germany, Italy, and Canada.
In the UK, hundreds of demonstrators reported at Trafalgar Square, in London, and protesters also marched to the US Embassy in Battersea, BBC reported, and were seen in Manchester and Cardiff.
Crowds chanted "Justice for George Floyd," "Racism has no place," "Enough is enough," "I can't breathe," and "Black lives matter." They chanted, "No justice, no peace."
Crowds also gathered at the US Embassy in Berlin on Saturday and on Sunday they demanded justice in front of the Brandenburg Gate, Insider reported.
In Italy, crowds marched in front of the US Embassy in Milan, and in Canada, the protests were sparked by local outrage as well.
Protests were also sparked by the death of Regis Korchinski-Paquet, a 29-year-old black woman, who fell from her balcony and died on Wednesday as police were investigating a domestic incident at her building, CBC News reported.
---
As unrest went into the early hours of Sunday morning, people defied curfews that have been imposed on 26 cities in 16 states.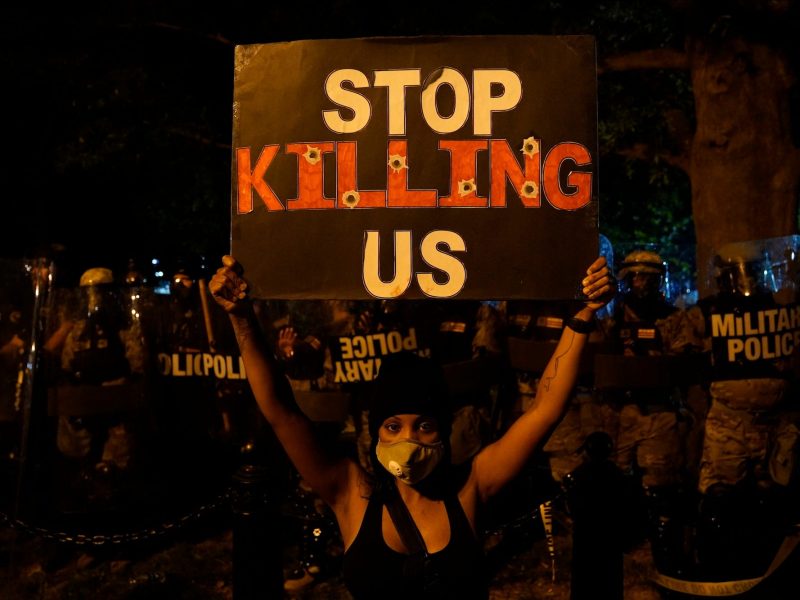 Protests and looting continued into the night in some Californian cities, including La Mesa, where at least two banks have been set on fire, according to the Guardian.
Gov. Gavin Newsom declared a state of emergency in Los Angeles County on Saturday evening.
The curfews were set in place in the following cities:
Beverly Hills, California
Los Angeles, California
San Francisco, California
Denver, Colorado
Miami, Florida
Atlanta, Georgia
Chicago, Illinois
Louisville, Kentucky
Minneapolis, Minnesota
St Paul, Minnesota
Rochester, New York
Cincinnati, Ohio
Cleveland, Ohio
Columbus, Ohio
Dayton, Ohio
Toledo, Ohio
Eugene, Oregon
Portland, Oregon
Philadelphia, Pennsylvania
Pittsburgh, Pennsylvania
Charleson, South Carolina
Columbia, South Carolina
Nashville, Tennessee
Salt Lake City, Utah
Seattle, Washington
Milwaukee, Wisconsin
Washington, DC
---
On Sunday evening, a truck drove through a crowd of protesters on the I-35W highway in Minneapolis.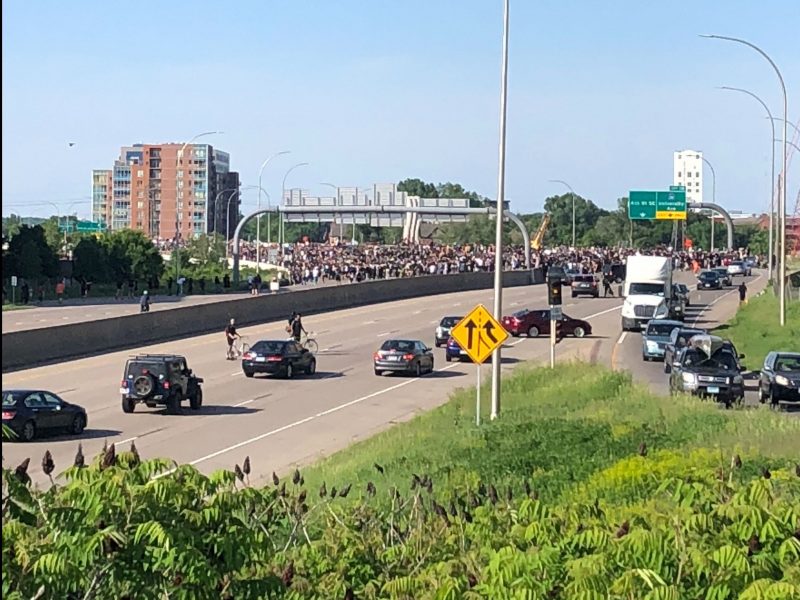 Video and photo from protesters on the ground shows a truck plowing through a crowd of protesters that blocked access on the highway in Minneapolis.
Witnesses told FOX 9 News that several people were struck by the tanker truck.
The Minnesota Department of Public Safety called the driver's actions "very disturbing" in a tweet following the incident.
The department said that the driver has been placed under arrest, adding that it did not appear that any protesters were hit.
---
Sunday night protests in Washington, DC saw large fires near Lafayette Park and officers firing tear gas.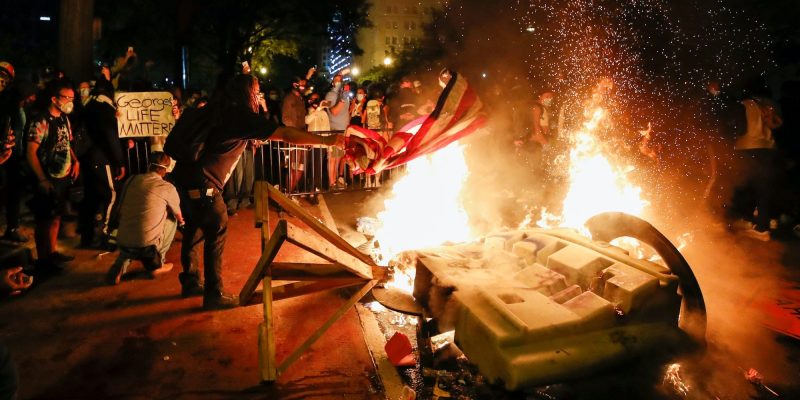 According to CNN, several fires were seen around Lafayette Park.
The fires were reportedly near the historic St. John's Church, and at a public-facilities building at the edge of the park, CNN reported.
A Washington Post reporter said that the fire was in the basement of the church but was put out and there didn't appear to be any significant damage.
---
A man in Louisville, Kentucky, was killed in a shootout with police and National Guard early on Monday as the police-brutality protests that gripped the US continued.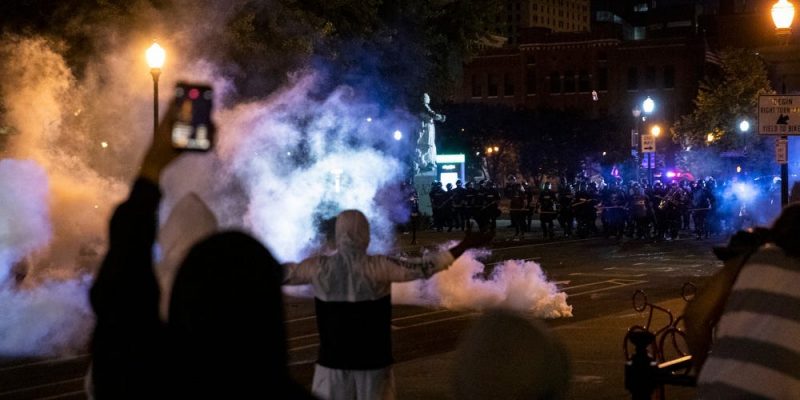 Law enforcement shot and killed a man during police-brutality protests in Louisville, Kentucky, early on Monday morning.
Louisville Police Chief Steve Conrad said the victim, who has not been identified, was killed after a group shot at police officers and National Guard members, and law enforcement returned fire.
It is unclear whether the man was part of the group that fired on law enforcement.
WLKY reporter Stephon Dingle tweeted that he was the owner of a BBQ joint at the intersection where the shooting happened.
Conrad said that several people were being questioned in relation to the death.
Protests in Louisville started in reaction to the recent death of Breonna Taylor.
Police officers fatally shot Taylor, a 26-year-old black woman, after they got into a gunfight with her boyfriend while serving a no-knock warrant on their apartment.
Most of the protests around the US were sparked by the death of George Floyd, who died while being subdued by police.
---
A criminal complaint against the ex-police officer Chauvin said George Floyd's preliminary autopsy showed no signs of traumatic asphyxia or strangulation. Floyd's family criticized the finding and said they're seeking an independent autopsy.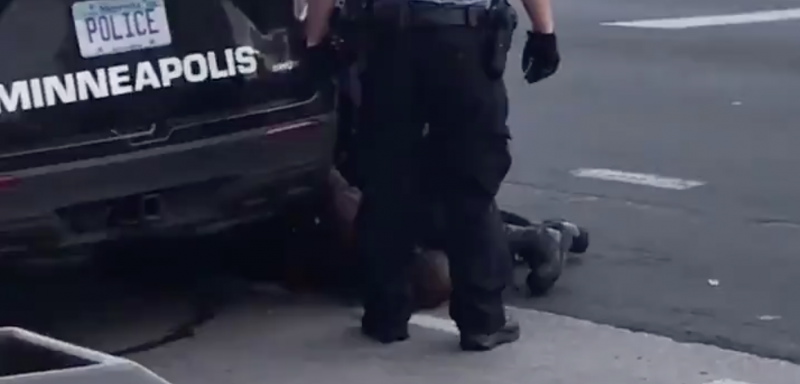 A criminal complaint against former Minneapolis police officer, Derek Chauvin, said George Floyd was "non-responsive" for nearly three minutes before Chauvin took his knee off his neck.
The complaint also cited a preliminary autopsy report and said there were "no physical findings that support a diagnosis of traumatic asphyxia or strangulation" – a finding that immediately prompted skepticism and condemnation from Floyd's family.
The complaint said Floyd died from a "combined effect of being restrained, his underlying health conditions, and any potential intoxicants in his system," though no toxicology results have been reported and could still take weeks.
Benjamin Crump, the attorney representing Floyd's family, criticized the medical examiner for failing to "address in detail the effect of the purposeful use of force on Mr. Floyd's neck and the extent of Mr. Floyd's suffering at the hands of the police."
Floyd's family will commission an independent medical examiner to conduct a separate autopsy, Crump said.
"We are not surprised yet we are tragically disappointed in the preliminary autopsy finding released today by the medical examiner," Crump said. "We hope that this does not reflect efforts to create a false narrative for the reason George Floyd died."
---
One week after George Floyd's death, Minneapolis' police chief told Floyd's family on Monday all four police officers were "complicit" in the man's death.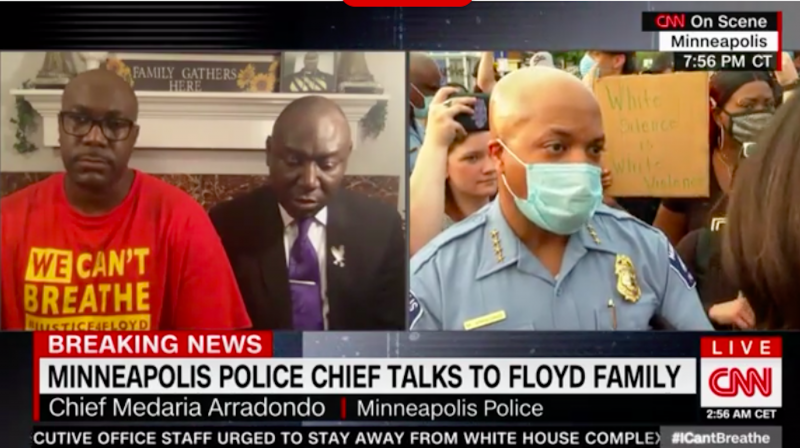 Minneapolis Police Chief Medaria Arradondo told George Floyd's family that all four officers were "complicit" in his death because they did not intervene.
Arradondo spoke with Floyd's family on CNN, where Floyd's brother, brother Philonise Floyd, asked: "I want to know if he's going to get justice for my brother, and arrest all the officers and convict them."
Derek Chauvin, the officer seen in video pinned Floyd to the ground by his neck, has been charged with third-degree murder. Floyd's family and many protesters are calling for more severe charges.
The three other officers have been fired, but no charges have been brought.
Arradondo said that only local prosecutors can bring charges, but repeatedly said he thought the other officers were complicit: "Being silent or not intervening, to me, you're complicit. So I don't see a level of distinction that's any different."
---
Minnesota Attorney General Keith Ellison will lead the prosecution of Chauvin.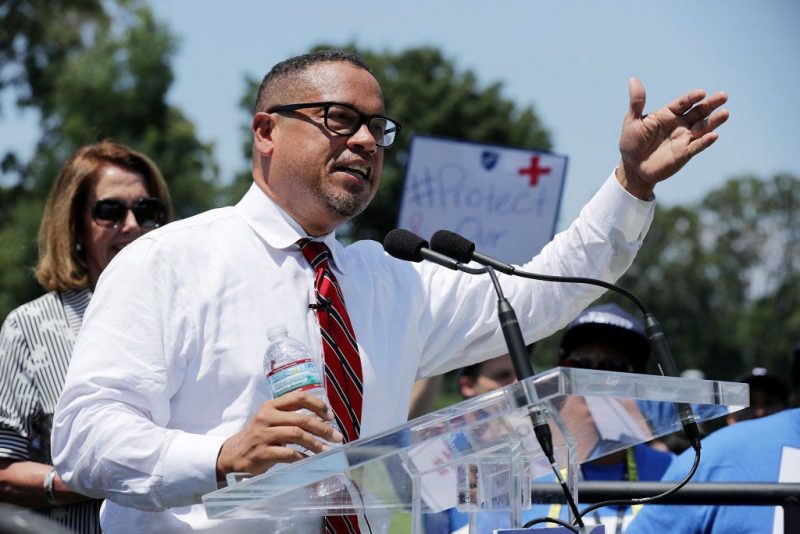 Minnesota Attorney General Keith Ellison will lead the prosecution of former Minneapolis police officer Derek Chauvin, who is charged with the murder of George Floyd.
Ellison will work with Hennepin County prosecutor Mike Freeman.
Floyd's family requested that Ellison take over the case. They're looking for heavier charges for Chauvin, who kneeled on Floyd's neck for several minutes before Floyd became unresponsive and died.
---
Trump ramped up his rhetoric on Monday night, issuing an order to mobilize all military resources "effective immediately" to break up any riots.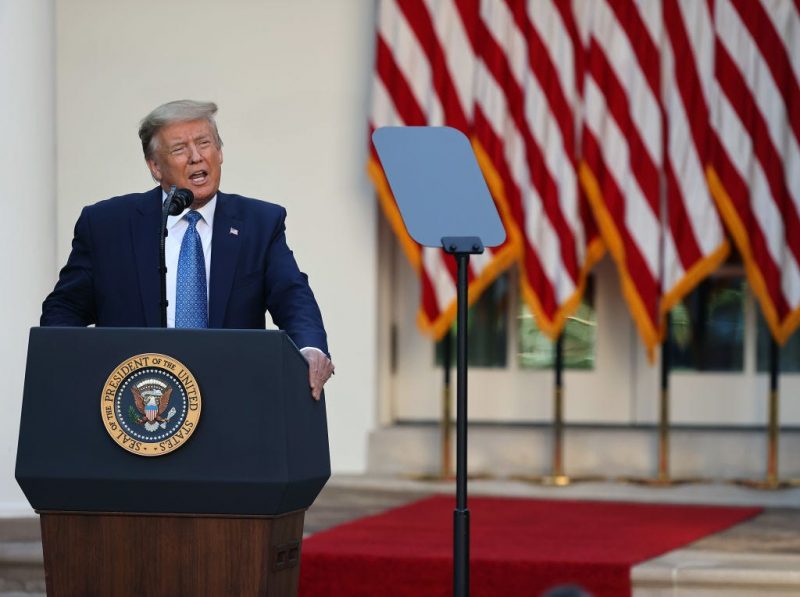 In the Rose Garden address, Trump threatened governors with military intervention if they do not take his "strongly recommended" advice to deploy National Guard troops to "dominate the streets."
The announcement was not framed as an executive order, but rather as "measures" that would go "into effect immediately."
"If a city or state refuses to take the actions that are necessary to defend the life and property of their residents, then I will deploy the United States Military and quickly solve the problem for them," he said.
The address was underscored by the sounds of tear gas exploding in the background as authorities confronted protesters just a few blocks away.
---
Law enforcement officials then fired tear gas and rubber bullets, and used shields, against peaceful protesters to clear the way for Trump to walk to St. John's Church for a photo op with a Bible.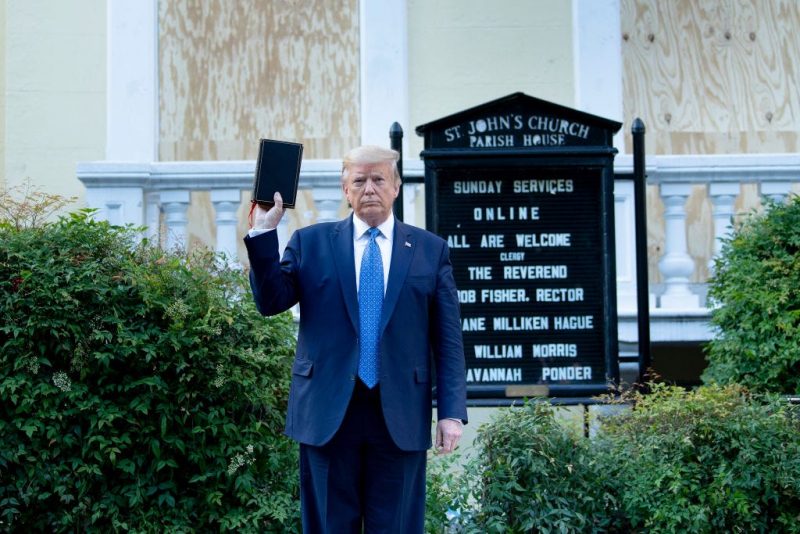 The Associated Press reported that "tear gas canisters could be heard exploding as Trump spoke in the Rose Garden." According to a pool report, the area near St. John's Church, which is across from Lafayette Square, was still thick with gas when the press arrived ahead of the president's stop, prompting "coughing and choking."
"There was no warning. The crowd was entirely peaceful," Jackson Proskow, Washington Bureau Chief for the Canadian outlet Global News, posted on Twitter. "Trump had police move in with tear gas and horses so he could stage a photo op outside a church across the street."
---
Monday night demonstrations marked the seventh night protesters turned out in cities across the US as tensions remained high across the US.